National Library of Australia Card Number and ISBN 0-646-09648-6.
In October, 1982 I met Jack Little and his wife Shirley while spending time in the Black Hills of South Dakota. The Black Hills are considered the sacred heart of the Sioux Nation. Jack Little worked as a guide-lecturer at the Indian Museum at Crazy Horse Mountain. Crazy Horse Mountain is a carving in progress of Oglala Sioux War Chief Crazy Horse. The life of Crazy Horse is symbolic of the Sioux Nation's fight for freedom and equality. In his capacity as guide/lecturer Jack spoke to a great many people about the Sioux way of life. He was eloquent, direct, informative and, as you read his story, you will realise his message is prophetic. Over a number of years as our friendship developed Jack agreed to record his life story with the help of his wife Shirley. His story is the personal side, the unconsidered information not included in the history books.
At the year's end of 1890 the United States government announced that an Indian frontier no longer existed. From the arrival of Columbus on the eastern seaboard in 1492 until this announcement in 1890 approximately six million Native Americans died. Death resulted from diseases such as cholera and smallpox, massacres by civilians and soldiers, relocation from ancestral homelands to remote, isolated and desolate areas of the North American continent and the dissemination of their culture.
For more than three decades from one of the earliest incidents in 1854, through to the victory over Custer's Seventh Cavalry at the Little Bighorn in 1876 and finally defeat at Wounded Knee Creek in 1890 the Sioux Nation of the Great Plains region resisted the intrusion of the white man into their lands and way of life. In the years between 1877 to 1890 Sioux leaders that opposed the white man's ways were systematically murdered, American Horse (1876), Lame Deer (1877), Crazy Horse (1877), Spotted Tail (1881), Sitting Bull (1890) and Big Foot (1890).
The nomadic Sioux were forced to settle on reservations, the buffalo herds were slaughtered to near extinction and families divided by law, loyalties and foreign religions. The Sioux, as with other Native American tribes, were forced to become unwilling wards of the State, in effect, prisoners of a foreign power. A resourceful and self-sufficient people were reduced to a position of dependence on an uncompassionate master.
The massacre of two hundred and ninety-eight Minniconjou and Hunkpapa Sioux at Wounded Knee Creek in late December, 1890 essentially broke the sacred hoop of the Sioux. Two-thirds of the Sioux killed were women and children, their bodies were found strewn and scattered over an area of more than a mile from the site of the initial engagement.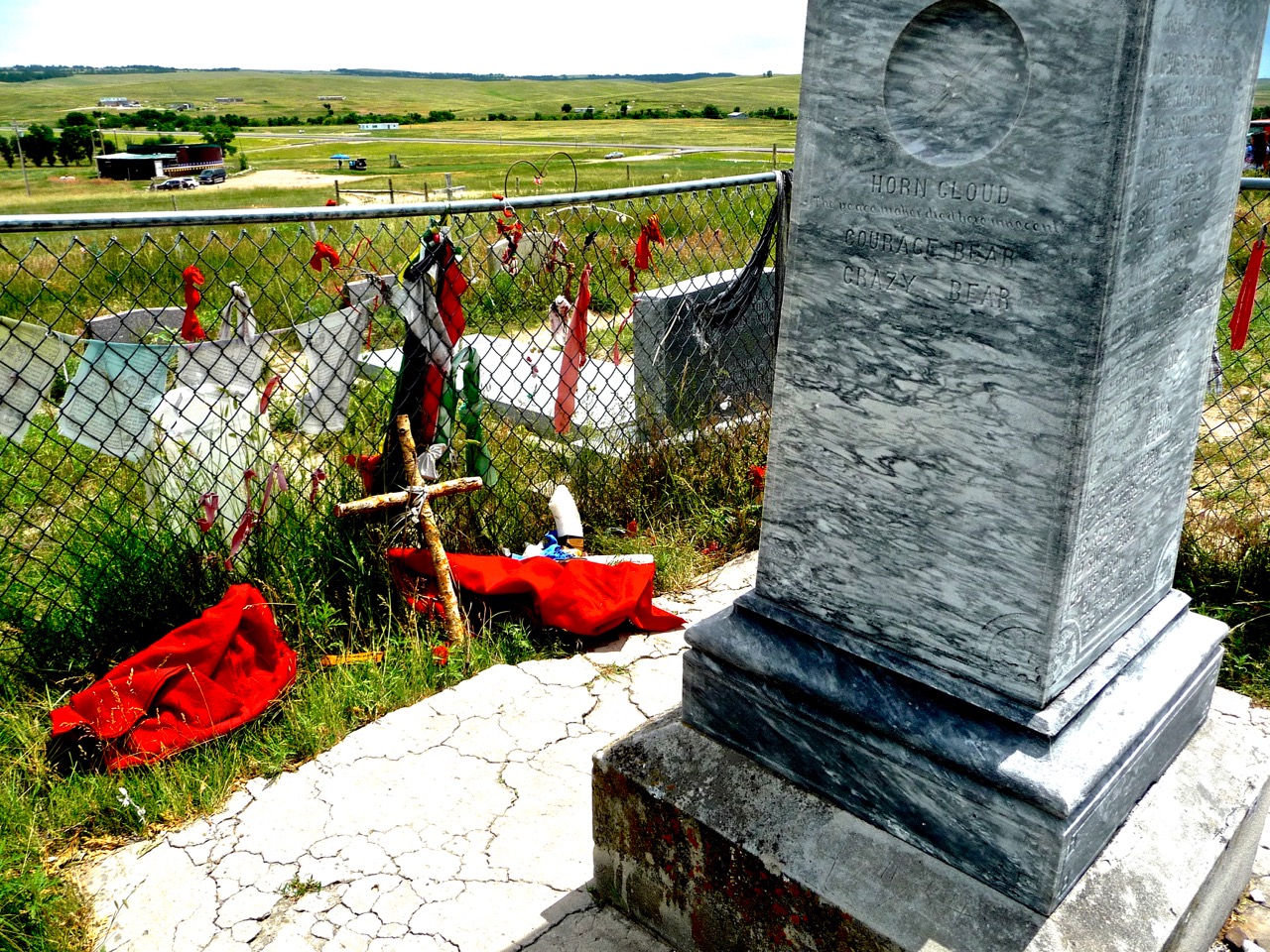 At the beginning of 1890 an estimated one hundred thousand Native Americans survived on the North American continent there were thirty-thousand Sioux. Still not content with the destruction fostered by the white man's greed the United States government actively pursued the systematic genocide of those remaining Native Americans by outlawing sacred ceremonies, language and the division and separation of the family unit which forms the basis of Sioux culture. On Pine Ridge Reservation in South Dakota one hundred and thirty-six church groups were established with land grants. Their target was a mere ten thousand Sioux. One church for every seventy-three Sioux!
In the eight decades from 1890 to 1970 as the United States of America grew in world stature and white Americans led an "ideal" life the Native American population was conveniently forgotten, left to struggle with a lifestyle not of its own choosing. Poverty and alcoholism became the silent killers. In 1924 Native Americans were granted the right to vote, in 1939 the freedom of religious choice and in 1946 the first Native American claims commission was set up. However, schools which actively encouraged the separation of children from their families and discouraged the use of native languages continued operating until the late 1980?s.
The 1960?s and early 1970?s saw a rise in political awareness and activism across "white, black and red" America. White Americans experienced the indifference of their government and began to question the values cultivated by their institutions and the media. The emergence of the American Indian Movement in the 1970?s marked the arrival of Native America back into American consciousness and a move by Native Americans toward traditional values and identity.
The occupation of the Wounded Knee Massacre site in 1973 for seventy-one days which protested United States government policy on the reservations marked the rise of solidarity between Native Americans. In the years following the Wounded Knee occupation the Sioux have continued to work toward re-establishing their identity and traditional values. The re-emergence of traditional values and consequently self worth have contributed toward healing the wounds of their ancestors and are their hope for the future in the continued struggle for self determination and acceptance as Native Americans.
In November, 1985 Jack Little died in Rapid City, South Dakota. He was returned to Mother Earth in his Lakota birthplace at Spring Creek on the Rosebud Reservation. The release of "Lakota Spirit" is a tribute to the memory of Jack Little and the indomitable spirit of the Sioux Nation.
Andrew Hogarth, November 23, 1992.
@ Copyright 1984, Jack and Shirley Little. First published Sydney, Australia 1984 by Andrew Hogarth. First reprint 1986. Second reprint 1992. All rights reserved. Art design: Andrew Hogarth. Map graphics: Andrew Hogarth Front cover and contents illustrations: Paul W. Farley. Photographs: Andrew Hogarth (unless otherwise credited). Historical photographs courtesy of the National Archives, Washington, DC. This booklet is sold subject to the condition that it is not to be reproduced either in whole or in part, stored in retrieval system or transmitted in any form without prior permission of the authors and publisher. Reprint by Permission of Shirley Brown Thunder 1992.
Chapter 1 The Reservation Years
I was born on April 18 1920 at Spring Creek on the Rosebud Reservation in South Dakota. I am probably one of the few Lakotal left who were actually born in a tepee. My parents were building a log cabin and were still living in their tepee when I was born. I am the oldest of five children. four boys and a girl. Today I have two brothers among the living. To say to which of the seven branches of the Sioux I belong is very difficult. There are  two  reservations  very  close together, Pine Ridge and Rosebud.
When my people were forced onto the reservations bands and even families were split. Those people on the Pine Ridge Reservation refer to themselves as Oglalas, and those on the Rosebud Reservation refer to themselves as Brules. I have many close relatives on the Pine Ridge Reservation so I really don't know whether I am Oglala or Brule. I do know that my mother came from Chief Rain-In-The Face's band, which was near Wanbli on the Pine Ridge Reservation. I cannot help but think that families were deliberately split to demoralise the people. Family and relatives were and are the most important consideration to my people and to split them apart would be the most effective way to demoralise them.
Today I call myself "Lakota." I do not call myself "Sioux" or "Indian" except for clarifying purposes when I am talking to non-Indians. "Sioux" is a French word which has nothing to do with me, and the word "Indian" belongs to another nation of people. "Lakota" is what I am, and the translation of the word is simply "The People." It is only a word that distinguishes the two-legged people from the four-legged and the winged people who live here with us, and yet if I tell a man from any tribe in this country that I am Lakota, he knows where I am from.
On the day I was born a man called Crazy Cat walked through the snowstorm to our tepee to give me my baby name, and until I was taken to the missionary school I was known as "Hohu.,,2 A person's name was very important to my people. One's name was thought to have a certain power, and each and every individual had his or her own name. When a child was born, he or she was given a baby name, usually by some older and respected member of the clan. Later in life, usually the early teen-age years, the person acquired his or her real name.
In the case of a boy, his name most often came to him in a dream or a vision. A medicine man helped him understand his dream or vision, and from that interpretation his name was determined. As my people were a part of nature, and considered every living thing in nature as relatives, the dreams or visions they had were most often about animals, birds, the sky, the earth, anything that was found in our natural environment. Consequently, real names of the men were often names like Black Elk or Little Elk, Two Bears or Quick Bear, Sitting Bull, Crazy Horse, Pretty Eagle, Little Wolf, Touch-The-Cloud, Red Cloud, Rain-In- The-Face and White Whirlwind.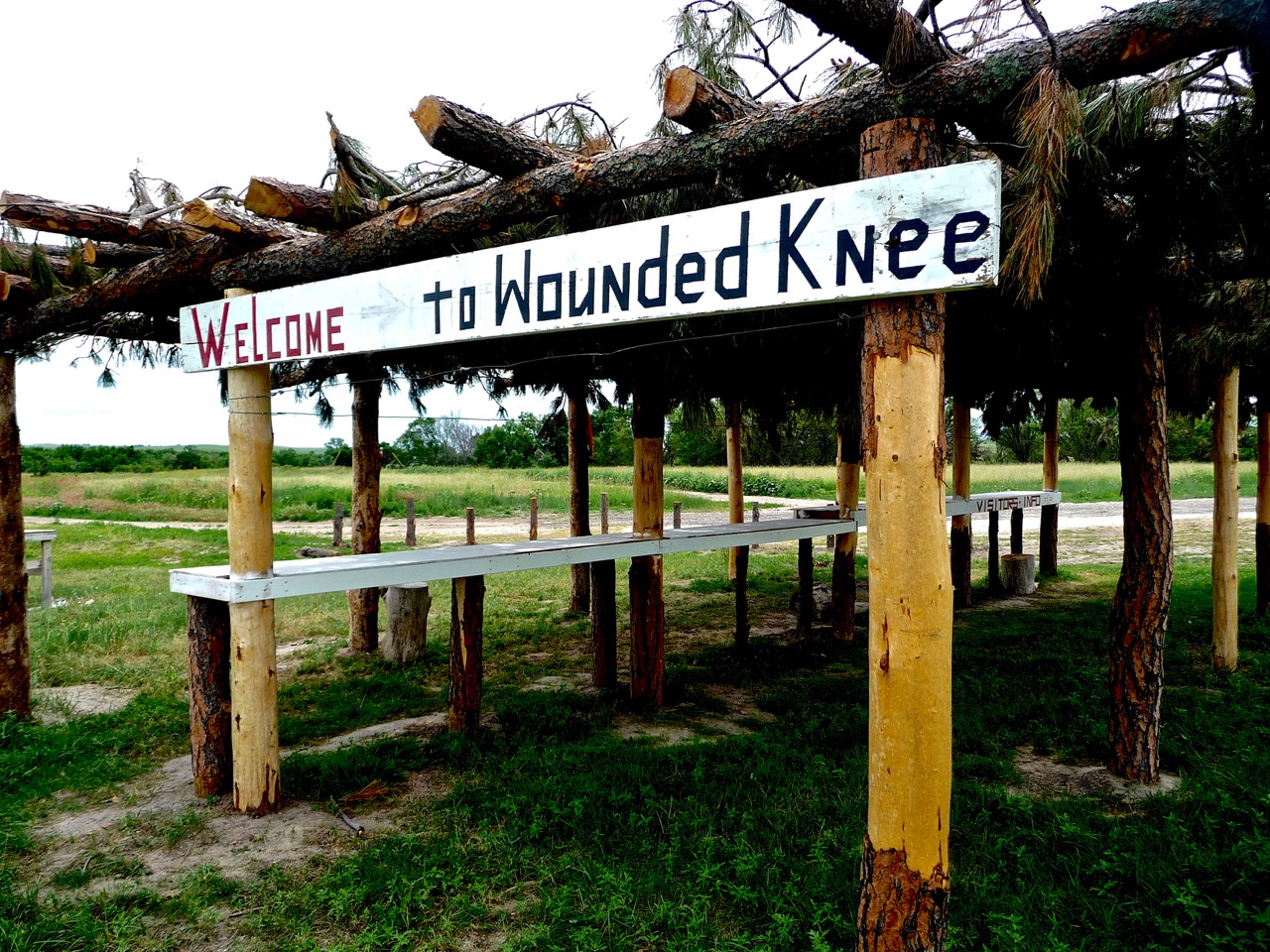 Young girls sometimes had dreams or visions, but more often their names were derived from some personality trait, or something unusual they had done. Their names were such as Mountain Wolf Woman, Gentle Bird, Bird Woman, Elk Woman, Yellow Feather, Good Woman and Morning Star. A woman kept her name for life. She did not have the name of a parent when she was a child, and she did not take the name of her husband when she was married. Like the men, she was an individual with her own name.
About eight miles from where my parents lived, there lived an old man named Mahalhpaya. Although he was my granddad's brother, in the Lakota way, I always called him Grandfather. Grandfather had lost a leg in the Wounded Knee Massacre when he was a young man, and so he had a peg leg. Although Grandfather died when I was nine years old, he has always been an influence in my life. As a small boy, I learned many things from him. Today I regret that I did not understand the importance of what he was teaching me. If I had understood then that he was giving me guidelines to live by; that he knew what I was facing in the white man's culture, and was trying to prepare me for that, I would have listened more carefully. I do remember many of the things he told me, and it seems as I get older, more of his words come back to me.
Mahalhpaya started taking me into the sweat lodge when I was four years old, and I learned the meaning and importance of the sweat lodge, the oldest of the Lakota ceremonies. I learned to sing the songs and say the prayers. Later, I shall explain more about the sweat lodge, but for now, it is sufficient to know it was a means of the Lakota purifying himself physically, mentally and spiritually. I remember my very early childhood as a time of freedom and contentment. I had my relatives, those who loved and cared for me; I lived a free and happy life, and I spoke Lakota, which was the only language I knew existed. My paternal grandfather had a large amount of land and had many cattle and horses, and we had great times at his home. Many relatives would come and camp for maybe a week or more. Grandfather would butcher a couple of cows and there would be much to eat and much happiness. I never knew what happened to my grandfather's land. At that time it was a part of the reservation. But, today that land is owned and farmed by white men, and is no longer a part of the reservation, so I am told.
One of my relatives, the wife of my grandfather's brother, was also a survivor of the Wounded Knee Massacre. In the Lakota way, she was known as "Grandmother" to me. Grandmother was a young girl when she was at Wounded Knee and was a member of Big Foot's band. She and her mother were trying to get away from the killing, and her mother was leading a horse. The soldiers killed her mother and the horse, but somehow the bullets missed her, and in the con- fusion she managed to hide herself between the bodies of her mother and the horse. She stayed there the rest of that day and all night, and sometime the next afternoon, some of my people found her as they were searching the prairie for survivors. Grandmother and Mahalhpaya did not speak often of their experiences, but I am sure that just knowing what had happened to them must have had some influence on my feelings even then.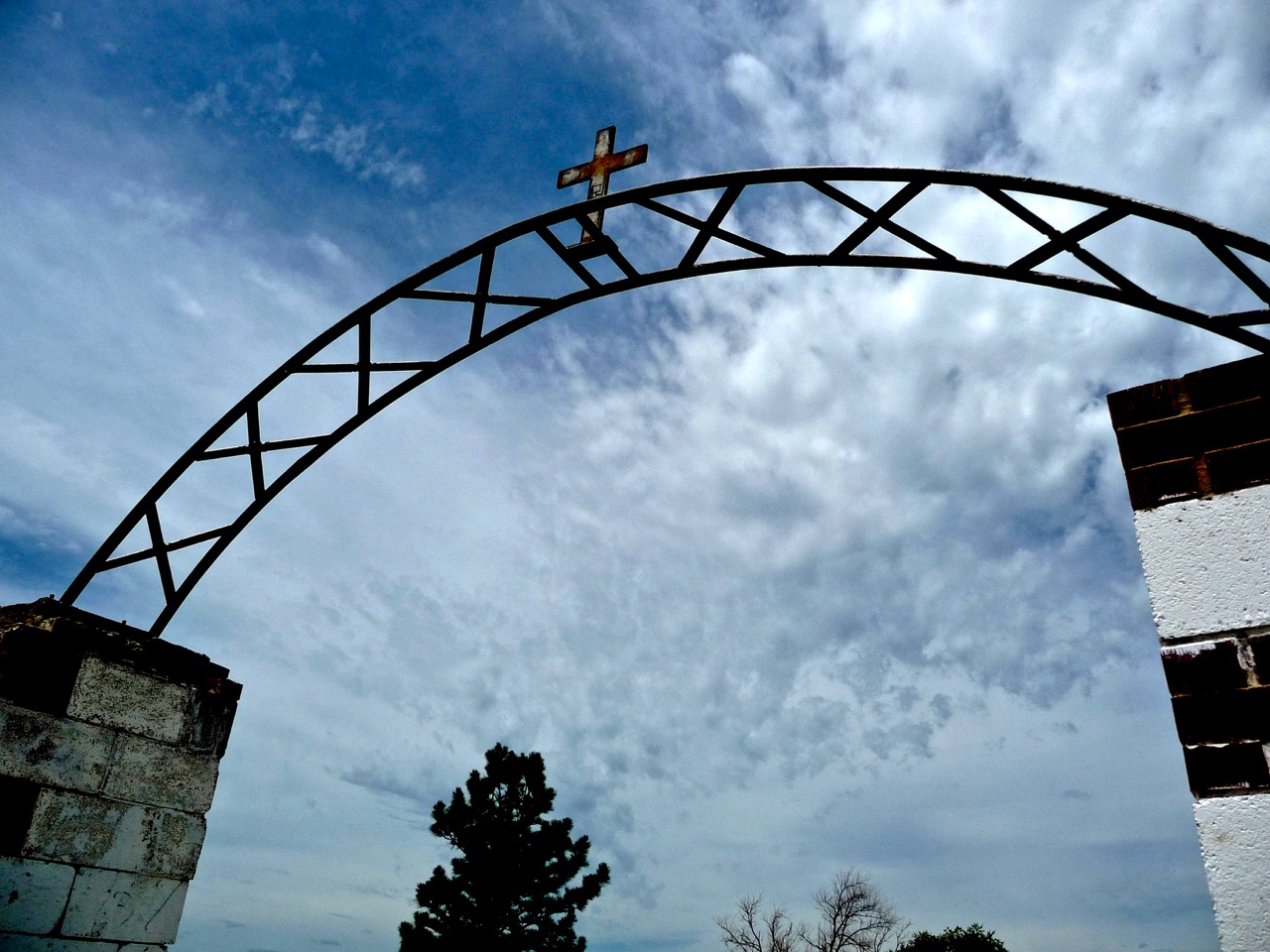 There were other things that I accepted as not unusual when I was a child. It was not until I grew older that I began to question why these things were as they were. I can remember being taken to a Sun Dance when I was quite small. I did not question why we had to go to the Sun Dance in secret, and I was not to talk about it afterwards. I did not question why we had to go a way back in the hills for this Sun Dance, and why certain people placed themselves where they could see for several miles and tell who was approaching. It was not until I was older that I realised that, according to the United States Government, holding this Sun Dance was illegal. My people were not to practise their religion. Although the Government said this was because our religion was savage and uncivilised, the real reason was to break the spirit and unity of my people. The Sun Dance was our most important ceremony as it brought my people together once a year for spiritual renewal and unity. Somehow, some of our old medicine men managed to keep many of the old beliefs alive. This law prohibiting my people from practising their religion was in effect from 1883 until the late 1920s.
When I was six years old, after coming out of the sweat lodge one evening, Grandfather Mahalhpaya told me I was going to go to school. I had no idea what he was talking about, but I did know he thought I was facing something that was going to require a great deal of spiritual strength and fortitude. I was taken to the St. Francis Mission about six miles from where I lived. It was run by the Catholic Church and is still standing and in operation today. I arrived confused and scared and not having any idea what to expect. I had to live in a dormitory with other boys. We were not allowed to live at home because it was thought our parents would not be a good influence on us. I did not know one word of English; in fact, I had hardly ever heard it spoken, and yet we were not allowed to speak a word of our own language.
The punishment for breaking this rule was being hit, going without meals, or being literally locked up in a dark closet. I do not know who set up the rules but the Sisters carried them out. Only English could be spoken and it was three years before I could make any sense out of what was being said to me, and even when I could understand what the Sisters were saying to me, much of it didn't make sense. Those years of struggling with the English language and an alien religion earned me many punishments which, as time went on, brought on my anger and resentments. I began to look at the white man and his religion as an enemy, or at the very least, something very bad that had to be endured.
When I arrived at the mission, I was given the name of John Baptiste Little. It was many months before I even realised that that was what I was to be called from then on. It was a great insult to me! "Cig'ala" was my father's name, which translates to mean "Little." They had not only given me my father's name, but they had put some other words with it that really had no meaning. Immediately, my individuality was threatened. I interpreted this as a personal threat to the person, I was and the person I would become. They were not going to let me be myself, they were going to make me into what they wanted. Because of the pressure on my people to become "civilised." and my years of being confined in school, I never had the opportunity to earn my own name. And so, I have gone through 64 years of my life with my father's name, two names that have no meaning, and my baby name, but never have I had a real name with power which meant anything.
Summer vacations are the only happy times I can remember during those early school years. I could go home and forget that white man's world for at least a few months. I could forget their rules and regulations, the complexities of their language, and their angry God that they tried to thrust on me. I could be Lakota and be free and happy. When I came home from school for the summer, my dad would bring in the horses. We were just young boys, but my father would tell us to pick out our horse for the summer. These horses had been on the range all winter and some of them had never been ridden. It was, nevertheless, up to each of us not only to catch the horse, but to gentle it, and break it to ride. Since I was the oldest, my younger brothers usually persuaded me to break their horses for them. I took many a hard spill from those horses, but I was never seriously hurt.
The horses were our transportation for the summer. There were miles of reservation land with no fences and we could go anywhere we wanted. If we were hungry, we simply stopped at some one's house and ate, or if it was growing dark and we were too far from home, we simply stopped at someone's house and slept. We were welcome anywhere with my people, and were never looked at with suspicion and distrust, as we had learned to expect at school. If there was a horse race going on somewhere, I always took my horse, but other times I preferred to run wherever I was going if it was not more than a few miles. And, I know of at least one time that my brother and I outran some of the other boys on horses! There was a white man who lived on the reservation and he had some cattle.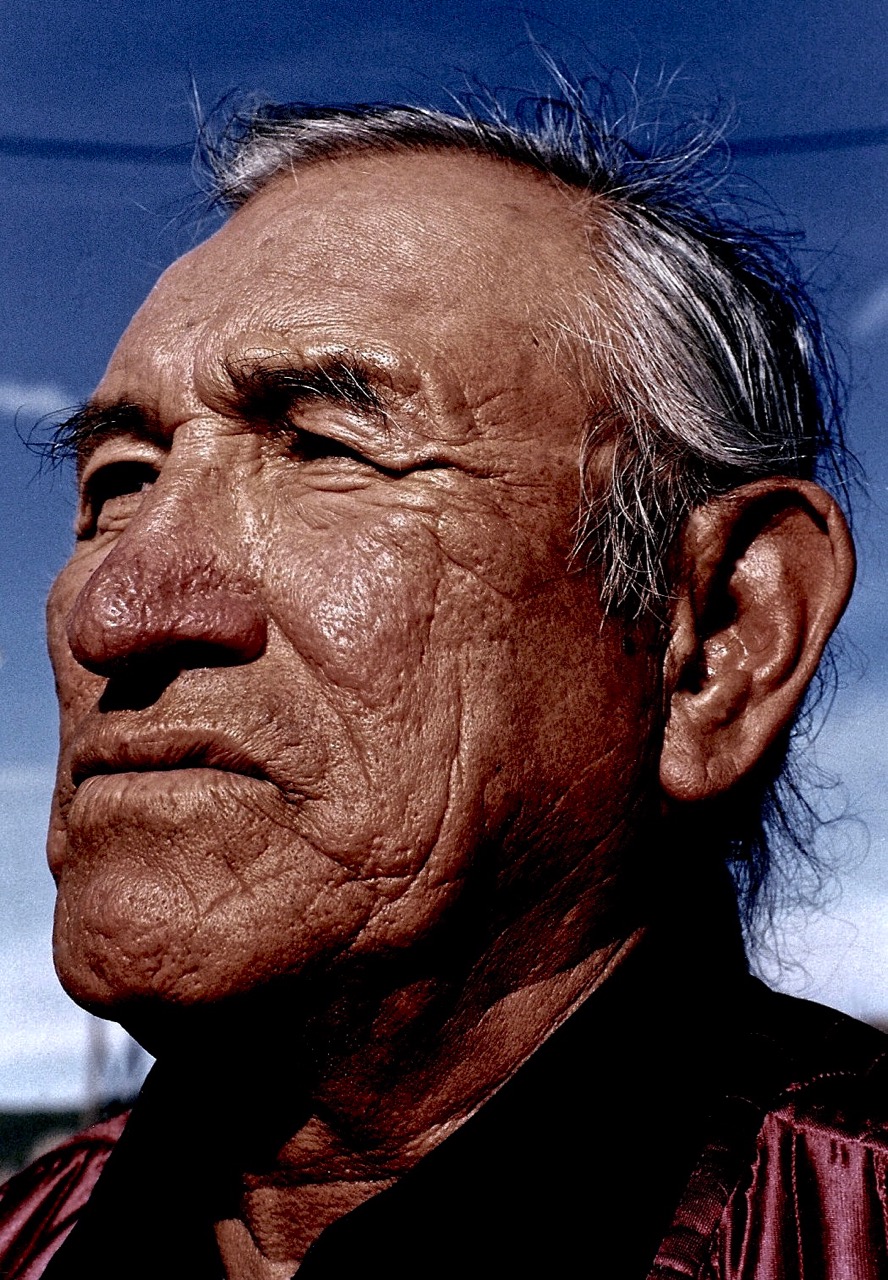 A number of us boys had found some of them behind a hill, and we proceeded to have a rodeo. We were having great fun riding those cows and half-grown calves, until a rancher came over the hill with a shotgun in his hand. The other boys scrambled for their horses, but Gus, my brother, and I didn't have time for horses. Going as fast as our feet would carry us, we passed those boys on horses and even got cross the creek, which was a boundary line, before they did. And, not only that – Gus and I had on shoes that we were to wear to school that fall, and although Gus didn't even stop at the creek, but ran right straight through it, shoes and all, I stopped and took mine off before crossing the creek. Afterwards, we all sat up on a hill a good safe distance away, and felt brave enough to throw rocks and yell insults at the rancher, who was a good half mile away.
We did have a few friendly white neighbours on the reservation. We played with their children, and they roamed all over the reservation just as we did. Their parents lived basically the same as ours and there was no animosity between us that I can remember. Although we spoke different languages, it did not seem to be a barrier. Our families shared with them what we had, and they did the same, and we all learned from each other. What made this possible at that time was a mutual respect for each other. All of that has changed now, though. The white society demands respect by virtue of the colour of their skin, and gives no respect in return, by virtue of the colour of our skin.
Those early days were happy days, but I can see now what the white man's education was doing not only to me but to the rest of my people. Being told over and over again that your people were wrong and were a bad influence on you, and that your parents' religion was sinful, eventually took its toll. A little shame crept in because your parents could not speak English well, because your grandfather only knew two words in English: "Yes" and "No," and because he laughed heartily every time he used one of those two words because they sounded so ridiculous to him. "The Old Ways," we were told, were not good, and we must learn to read and write English, learn to dress nicely, learn the white man's courtesies: how to eat properly, speak properly, and act properly. And, most of all, we were to learn to worship their Christian God, not in a way that was natural to us, but as we were told. They spoke of all the good rewards that would be ours if we did all these things. If we turned out backs on our parents and elders and listened to "them," we would really be somebody. Hurting memories and scars for life were picked up during those years of turmoil.