Scotsman feels connection to American Indians
by Bill Harlan
The Rapid City Journal, Rapid City, South Dakota, USA, 30th June 1996.
Andrew Hogarth says it makes sense for a Scotsman who lives in Australia to spend his summers photographing Indians and their historical sites in the American West. "Did you see 'Braveheart?' he asks. That says it all. My culture has a lot of similarities with Indian culture. There's the tribalness of the Scots people. And the Scots and Irish were killed, murdered and raped." Hogarth, 45, says that's why he moved to Australia. "I live as far from the English as I can get."
Hogarth has also spent ten of the past fifteen summers here, driving 115,000 miles to take photographs and do historical research for the books he writes with his wife. "Some people have boats, some people have cars. I have my books, music and images," Hogarth says, his Scottish brogue still thick despite twenty-one years in Sydney.
An exhibition of his photographs runs from July 4 through to September 30 at the Gallery of American Legends in Custer. "Battlefields, Monuments and Markers" is a series of eighty photographs Hogarth took over the course of eleven years. He visited more than 120 historical sites, and 50 of them are in the exhibition.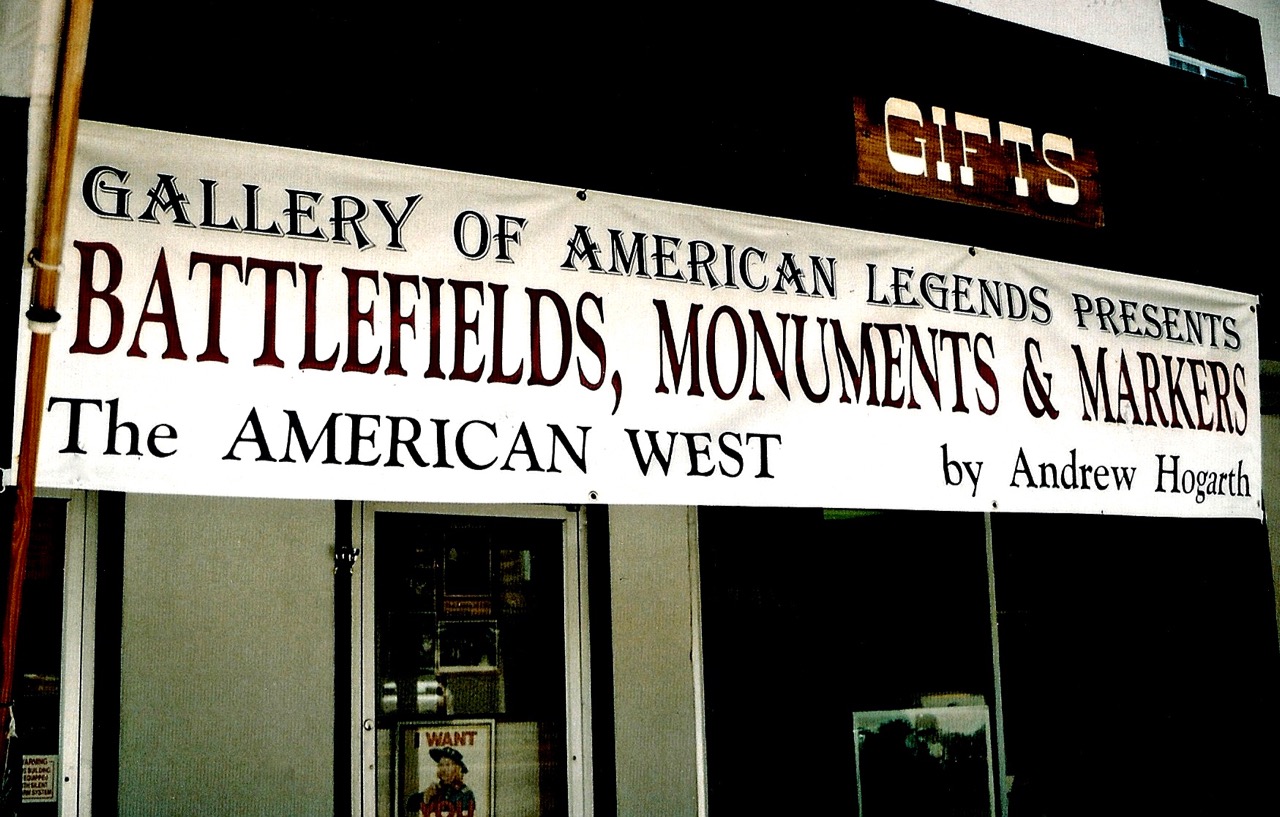 Hogarth describes himself as a working-class artist and historian. "I'm only a street kid," he says. "I was thrown out of school at 15." He is a camera operator for offset presses by trade, and most recently for Rupert Murdoch's News Limited in Sydney. But Hogarth hasn't had a regular job for several years. He has attempted to make a living through his photographs and books, which he writes with his wife Kim Vaughan.
Hogarth publishes his own books and photographs and sells them shop to shop and customer to customer. In Australia he has hawked his books in the street. He says he has sold 5,000 books in Australia and 8,000 in the United States. Among them is a guide called "Battlefields, Monuments and markers," which parallels the exhibit in Custer. It includes black and white reproductions of the photographs. Another booklet, "Native Lands," has black and white photographs from another colour photograph exhibition.
Hogarth also sells limited edition prints of his colour photographs. One year, he sold $8,000 worth of photographs, but they cost $13,000 to produce, market and exhibit. That's why Hogarth says his exhibitions this summer may be his last for awhile. He may have to get a regular job.
Later this year, Hogarth will exhibit his work at three museums in Wyoming, Jackson Hole, Douglas and Gillette. Hogarth says he is satisfied with the results of his ten working summers in America. "I think I've captured the whole environment here," he says. "My work is basically complete. Its up to the people now."