Scotland native writing book on Sioux Indians
by Steve Prinsen
The Custer County Chronicle , Black Hills, South Dakota, USA, 20th September, 1984.
Andrew "Andy" Hogarth is writing a book. It should be published by the end of the year.
It is his first and last book, Hogarth says, and he feels very deeply about the book's subject – The Teton Sioux Indians of North America.
Of the several hundred books written on Native Americans, this one is authored by a native of Scotland who presently lives and works in Sydney, Australia.
He has been visiting the Black Hills for the past few weeks, touring parts of the reservations and taking pictures for the book along the way. He has been making a temporary residence at The Fort north of Custer.
"Most people wonder why I would want to write a book about Indians," admits Hogarth. 'There are several reasons."
First, "Where we come from (Scotland) the philosophies are similar. We have similar tribal systems and clans."
Hogarth adds that he feels the Scottish people have been labelled as angry, "mean" people, while in reality they are very generous people, much like the Native Americans.
He talks to the "clash of two opposite cultures" when the red man met the white man. On one hand the Indian was used to generosity (chiefs, for instance, were the poorest among the tribes) while the white man's philosophy was that of climbing to the top and taking as much as he could."
Finally, adds Hogarth, "This didn't happen ages ago like some people think. It happened only a few years ago. It was a clash of two cultures."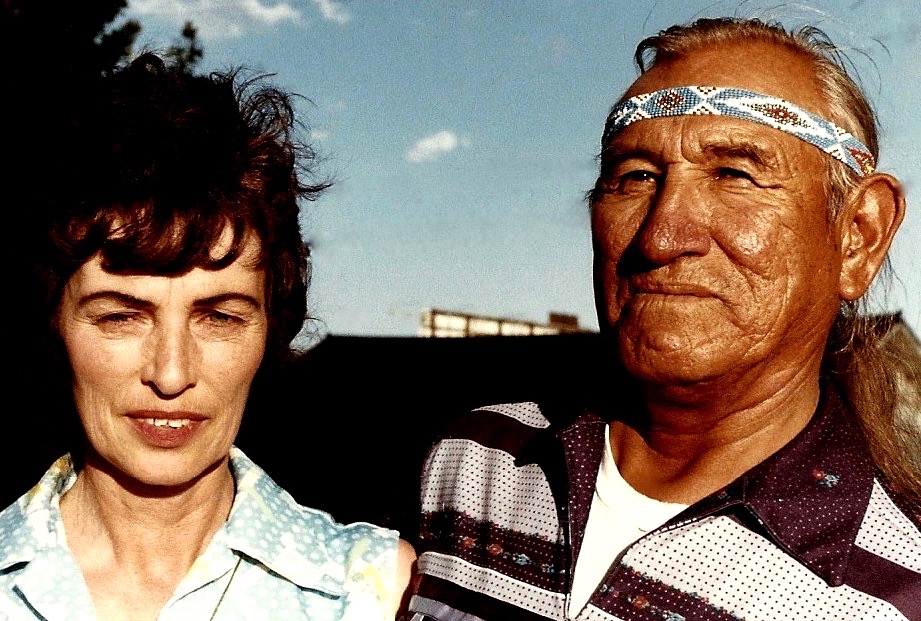 So Hogarth's book follows this clash from its start to the present. The book also contains a chapter written by Jack Little, local resident and curator of the Crazy Horse Mountain Indian Museum. The chapter, entitled like the book, "Light at the End of the Tunnel," is a first hand account of Little's life as a full blood Lakota Indian.
In the book, Hogarth attempts to tell some of the trials of the Native Americans. He points out the importance of the great Indian leaders like Sitting Bull and Crazy Horse. "I don't feel I know Crazy Horse, but I know what he went through. You don't have to be an Indian to feel that."
Hogarth first became interested in Indians when he saw them on television, which usually portrayed them as an enemy. He started reading books about Indians and after high school ventured to America. This is now his fourth trip.
Two years ago he made it to South Dakota and met Little and his wife Shirley. "I was on foot then, and I would trip up to the mountain every day, so I would stop up here (at the Fort) for a buffalo burger hamburger." That is how he became acquainted with Fort owner John Cooke.
Hogarth is a camera operator in Australia at a publishing house. Hence he has been able to do most of the graphic and layout work on the book himself. Still, he estimates he has spent $10,000 on it. He will publish it himself as well and hopes to sell it at locations like Fort Robinson and Crazy Horse.
He will print, 1,000 books to start. "I'm not in it for the money. You can't do it for that. I figure if I can sell 500 books and 100 people get the message it will be worth it. This book is for the average person. It takes only about two and a half hours to read."