New Great Plains Songs in 2016.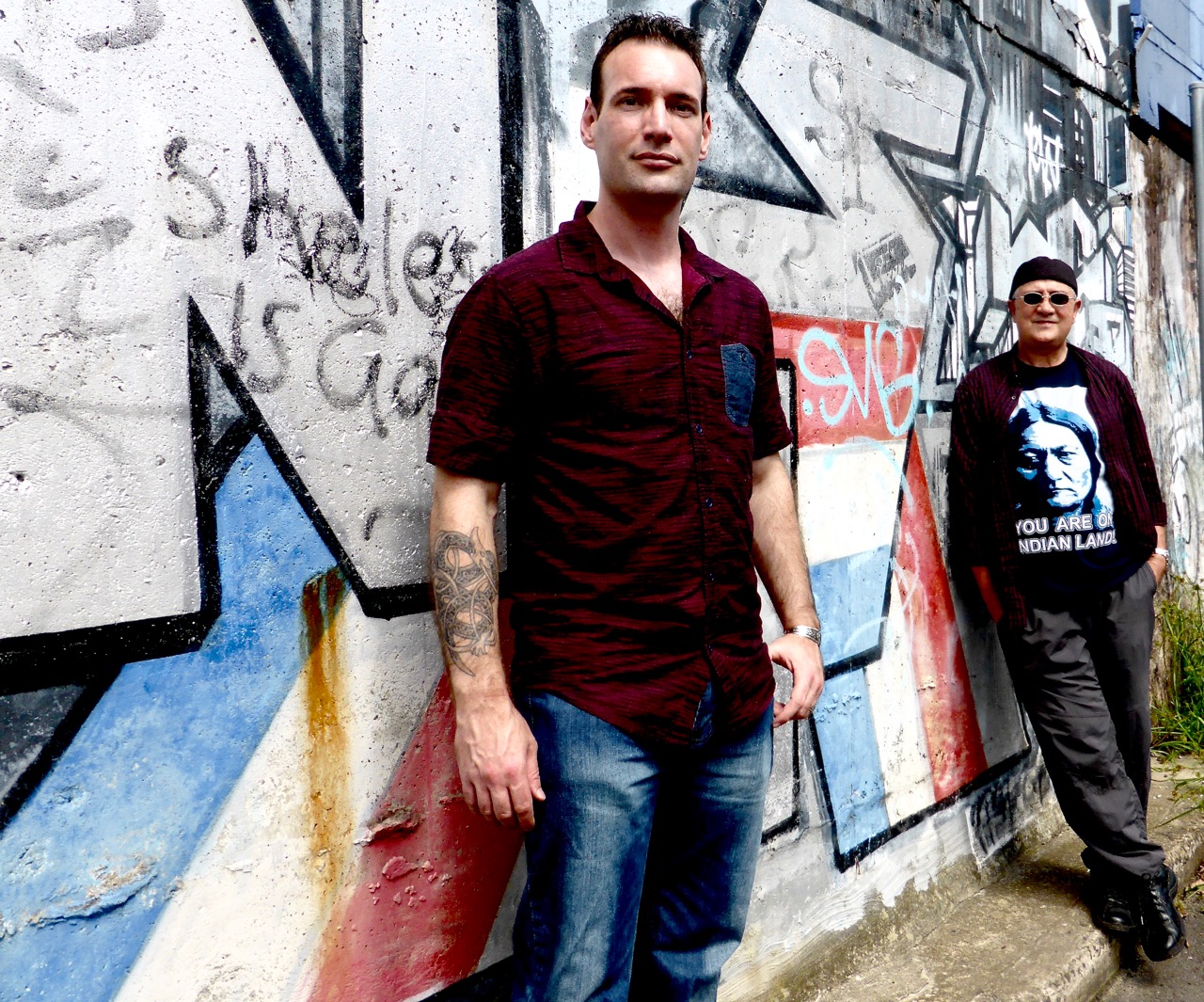 New Tracks Coyote Man and Buffalo Medicine Horns For Great Plains
It was indeed exciting times recording the two new songs Coyote Man and Buffalo Medicine Horns with Chris and Adam on the 27th and 28th of August at Nick Irving's One Flight Up Recording Studios in the Sydney suburb of St. Peters. Chris and I only caught up in late January this year for the first time since we completed our Great Plains Alternative Rock Album in 2001. It was during this meeting that I mentioned to Chris that I had two Native American lyrics that I wrote in 2009 for a Scottish band from my hometown city in Edinburgh. This collaboration eventually was canned and put on the back burner.
I asked Chris if he would like to collaborate once again seeing that later this year it would be the 15th anniversary of Great Plains. The album was now up online in cyberspace on prominent music website and I had also created videos for each of the eleven tracks on the album for YouTube and Vimeo. I e-mailed out the lyrics to Chris along with the footnotes for each of the two songs. With the project now up and running we penciled in dates for late August, 2016 and as Chris worked on the musical production for the songs I started to arrange what images and personal art I would like to envelope the studio with when we recorded for the two days.
It was extremely hard work with two twelve hour shifts over the Saturday and Sunday. Although when one is working on personal artistic projects it does seem like time flies when you are having fun. I also enjoyed singing with Chris on the chorus for Coyote Man and also playing percussion as well. I am sure that my dear friends Jack and Shirley Little would have been pleasantly surprised that we were recording a song about Jack's interesting life journey from 1920-1985.
Buffalo Medicine Horns is very different from Coyote Man and it has a big bluesy feel to it and once again has the great guitar work by Chris that was a feature on the original album. The new songs are already drawing attention from interested parties in the music world with huge numbers of song plays on the Canadian music website Number One Music.
It was indeed a magic weekend and it was also my thirty-fifth year as a working artist since the dark days of the Margaret Thatcher Conservative Government attack on the working classes way back in 1981. I guess nothing has changed in the three and a half decades since I walked away from my free standing house on the outskirts of Edinburgh with only a plane ticket in one hand and a suitcase in the other hand. Run down shacks are now selling for around a million dollars! Still having fun and spreading the word as artists on how things should be is extremely rewarding. As Chris and I sang the chorus of Coyote Man I still managed to smile and most importantly enjoy this Earthly life!
Needs are important wants are not. Money for needs but it often buys wants.
Spiritual bankruptcy covers the land. Spiritual bankruptcy covers the land.