American Indians honoured
by Brian Woodward
Australian Camera Magazine, Sydney, New South Wales, Australia, July Issue 1996.
Simmering beneath the surface we all have a passion. Few of us forsake all and devote our lives to that passion. Andrew Hogarth did. Brian Woodward reports on his photos, his books and his quiet determination to right wrongs
"I learned a lot" said Andrew Hogarth in his quiet, unassuming way. He has been explaining how an interest became a passion and a passion a career and a completely overwhelming life.
In the process of moving from interest to his present stage, Andrew Hogarth learned about America's native Indian people, refined his skills as a photographer and author, became publisher and publicist and anthropologist as well.
The next step was to take his message to the world through powerful, elegant and dignified images of native Americans and their environment. To do this he had to become his own publisher.
It isn't hard to understand what led Andrew Hogarth to his passion and beyond. As the veil of untruth is lifted from the world's histories of indigenous people, cliches are seen as lies and long held beliefs challenged. There are strong parallels between the European settlements in Australia and the United States of America. If there is any major difference between the two battles between settlers and natives it is that the American native's culture lent itself to quickly adopting the Europeans' weapons of war.
Battles between aborigines and soldiers or settlers in early Australia record almost no mention of native Australians with firearms. The battles were often swifter with the outcome decided as much by the difference in the technology of war weapons than the bravura of the combatants. As time reveals more of the conflicts of the past, it becomes increasingly obvious that the native Australian didn't stand a chance against the large numbers of well-armed soldiers. As Australia heads towards reconciliation, let us hope the memories of these sad times remain as insurance against such a thing ever happening again.
But, we've all seen the battles between American Indians and the soldiers or settlers. While shame or ignorance prevented the clashes between Australian aborigines and Europeans becoming a source of entertainment, the American native's defeat was run and re-run as movies, books and comics for the pleasure of kids and grown-ups alike. Goodies wore white hats, baddies wore black hats and the cavalry always arrived in the nick of time to save the beautiful white woman from being scalped by an evil Indian who had shot her husband and laughed while his warrior tribesmen used rifles, bows and arrows to murder innocent settlers in their covered wagons.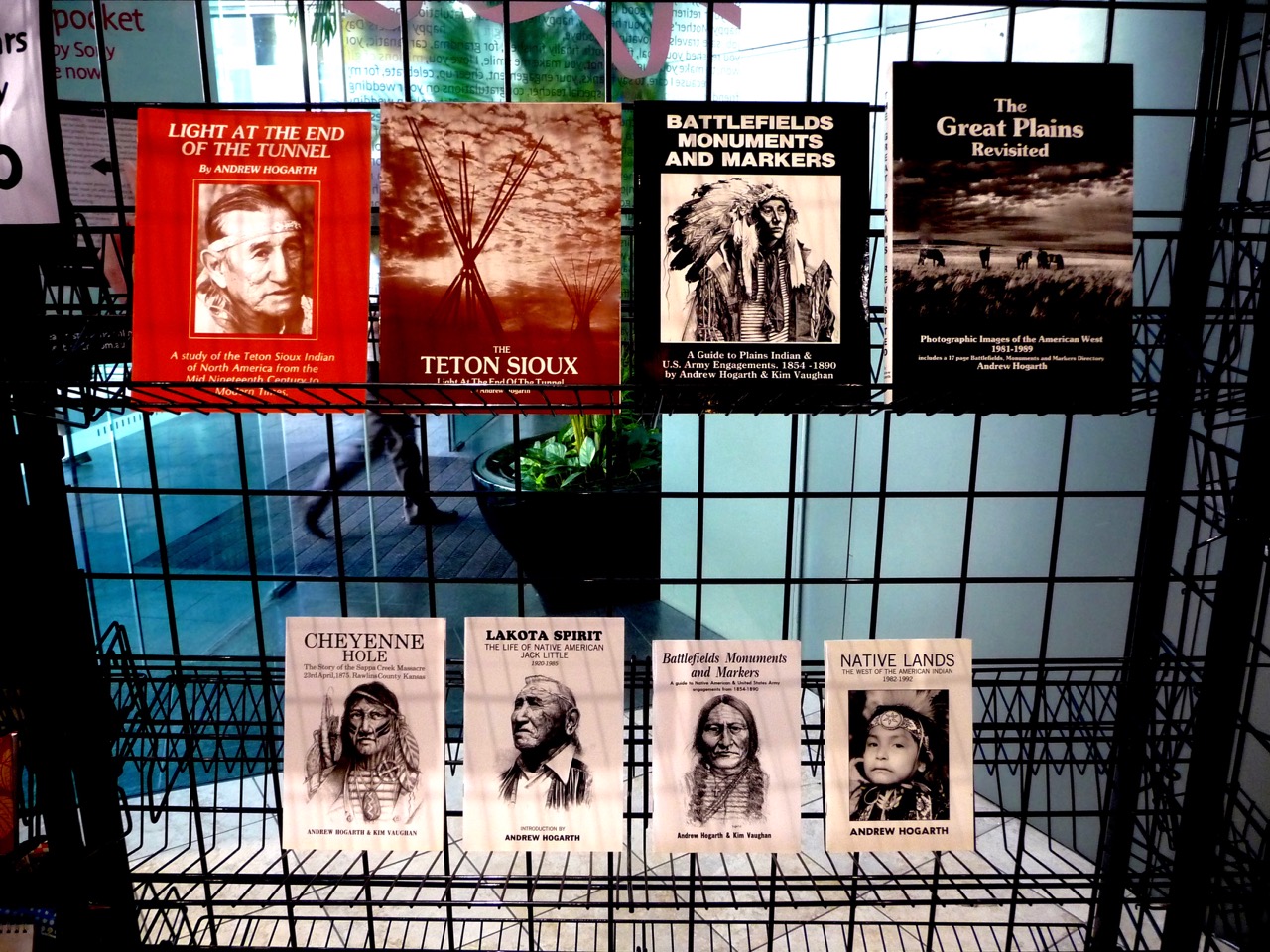 Of course such events were nonsense. But they became part of white man's lore. Andrew Hogarth researched and discovered that native Americans were often slaughtered while armed with nothing but bows and arrows against the rifles and canons of the soldiers.
Like the Australian aborigine, the issue was land. If, like me, you're an Australian with a heritage that stretches back more than 150 years, you probably rankle when the term "invasion" is used to describe white settlement in Australia. Both sides of my family had little say in where they were sent after being found guilty of stealing sheep and emptying the contents of a country mansion.
However, like so many Australians that have been here so long I don't belong anywhere else. I'd like to reconcile the differences  which have existed for more than 200 years between the original Australians and we blow-ins.
One way to start honest research into the past and correct errors wherever and whenever possible. It is this set of principles which gave Andrew Hogarth the journalist the impetus to start correcting the history of the Native Americans. Six books later, his reputation is unimpeachable, having won awards, and his photographs having been the subject of exhibitions in Australia and the United States of America.
To pay for his research Andrew publishes his books and offers limited editions of the photographs reproduced in the books. The quality of his work is exceptional. Not only are the images beautifully composed and exposed (he uses Olympus equipment), but his sensitivity in capturing the dignity and beauty of the American Indian of all ages has to be seen to be fully appreciated. The few photographs reproduced here don't do justice to the limited edition specials which are available for $295 framed.
Andrew. Hogarth deserves admiration. He has taken a lifelong Interest which grew to become a passion and has made It a worthy cause. Each of the barriers which slow down lesser folk have caused him little more than a pause.
To see his various books, visit bookshops specialising in less mainstream titles such as the Napoleon Military Bookshop at 336 Pitt Street, Sydney, New South Wales or phone 02-9264-7560 or write direct to Andrew Hogarth at P O Box 213, Waverley, Sydney, New South Wales 2024.