The Adventure Begins 27th, April, 2019: It had certainly been a long time between drinks as the saying goes regarding an extended overseas holiday. Yes there had been short cool and interesting trips to Uluru, Tasmania and New Caledonia in recent years but one had to go back to the summer of 2013 for the last big adventure on the Great Plains of North America. After the completion and publishing of both "Great Plains Volume I & II" in early August, 2018 I started to research Mexico and in particular Merida in the Yucatan state. When the festive season rolled in and the New Year beckoned Kim and I had booked Qantas return flights to Los Angels. Once things got back to normal in early 2019 we followed up our long haul flight booking with American Airlines return flights to Mexico City from Los Angeles and then AeroMexico domestic return flights to Merida from Mexico City. Our departure date out of Sydney was the 27th of March, 2019. With roughly ten weeks up our sleeves we started to plan our five week trip booking hotels and Haciendas that were located close to all the Aztec and Mayan archeological sites that we were keen to explore.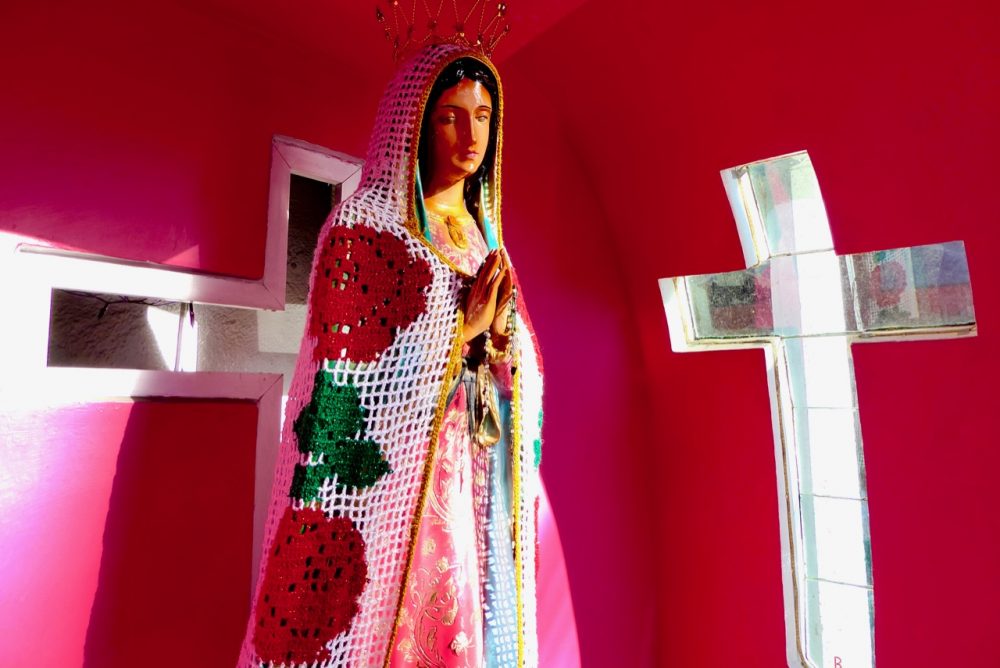 Exploring The Yucatan Jungle: It was certainly a long haul flight to our eventual destination of Merida in the state of Yucatan. Fourteen hours from Sydney to Los Angeles and after a four hour layover it was hop onto my American Airlines flight to Benito Juarez International Airport in Mexico City. After staying overnight at the Airport Hilton in Mexico City we ran into trouble and through no fault of our own ended up missing the AeroMexico connecting flight to Merida the following afternoon. Luckily Kim managed to get a hotel room with meals and a confirmed flight the following day from AeroMexico staff members at the airport. From then on the five week Mexican adventure went like clockwork although the thirty-five to forty degree heat each day made life a touch trying to say the least. There was no artistic agenda like my Great Plains travels across North America. It was just play tourist with Kim and enjoy each new day as it dawned along with the amazing Mayan and Aztec archaeological sites that we visited. The white city of Merida was relaxed and enjoyable and the Mayan cities of Mayapan, Ek Balam, Uxmal, Chichen Itza, Kabah, Edsna and K'inich K'ak' located in the Yucatan and Campeche state jungles were truly amazing structures that dated back thousands of years. The local Mexican people were very friendly which always helps to heighten ones experience. Plus coming across two Mayan traditional dancers Modesto Tuz Chan and Gabino Tuz at Ek Balam was indeed a real treat as we spent a few hours in the early afternoon sunshine creating dozens of exiting images together.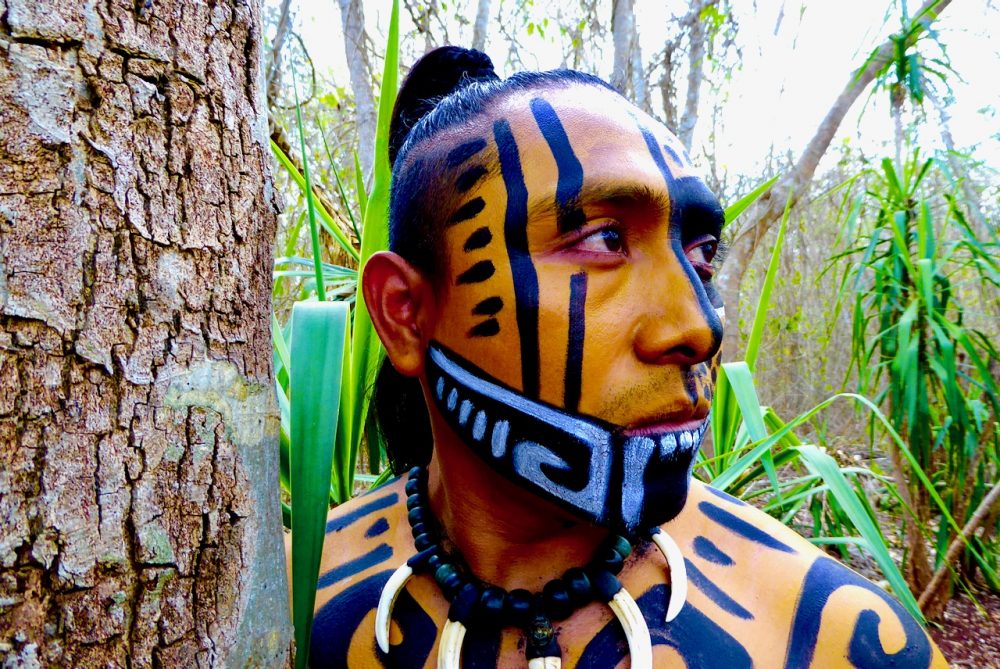 Merida, Mayan Ruins & Campeche: Our travel itinerary had been mapped out down to the last fine detail before departing Sydney. Block dates of four days booked at the beautiful Casa de las Palomas Boutique Hotel in Merida and two days also booked at the Casa Lucia Boutique Hotel also in Merida. We had four days booked at Hacienda Uxmal Plantation & Museum and also four days booked at the Hacienda Chichen Resort. Both Hacienda's were really cool places to hang out while tramping around the two archaeological sites of Uxmal and Chichen Itza each day in extreme hot and humid temperatures. The two archaeological sites were totally awesome to say the least. The sheer size and scale really have to be seen as a photograph only gives that one dimension. The Pyramid of the Magicians at Uxmal and the El Castile Pyramid at Chichen Itza pictured in the image gallery below were stunning! The food on offer at the Hacienda Chichen Resort was like the Campeche restaurants excellent. After our stays at Uxmal and Chichen Itza it was time for a change of pace and scenery spending five days at the Mexican port city of Campeche staying at the Casa Don Gustavo Boutique Hotel. Our driver David then drove us back to Merida for four more days at the Casa de las Palomas Boutique Hotel. One of the cool place we hung out in Merida during our third stay was the Nacion Brava Micro Brewery just down the road from the hotel. The bartender Alonso Ik served up killer beer and it also came with excellent food from the bar kitchen. Then it was back to Mexico City on our AeroMexico domestic flight for an eight day stay at the trendy hotel Downtown Mexico Hotel. One our lasting memories that was really cool was when we arrived for our stay in Campeche and listening to the Mexican President Andres Manuel Lopez Obrador speak to an excited Mexican audience of his supporters outside the old Spanish city walls. Also the vibe of Campeche was extremely alive and exciting to say the least with families enjoying the local activities held each evening. The food on offer at the local Campeche restaurants was mouth watering and most enjoyable. And it was always served with an accompanying smile.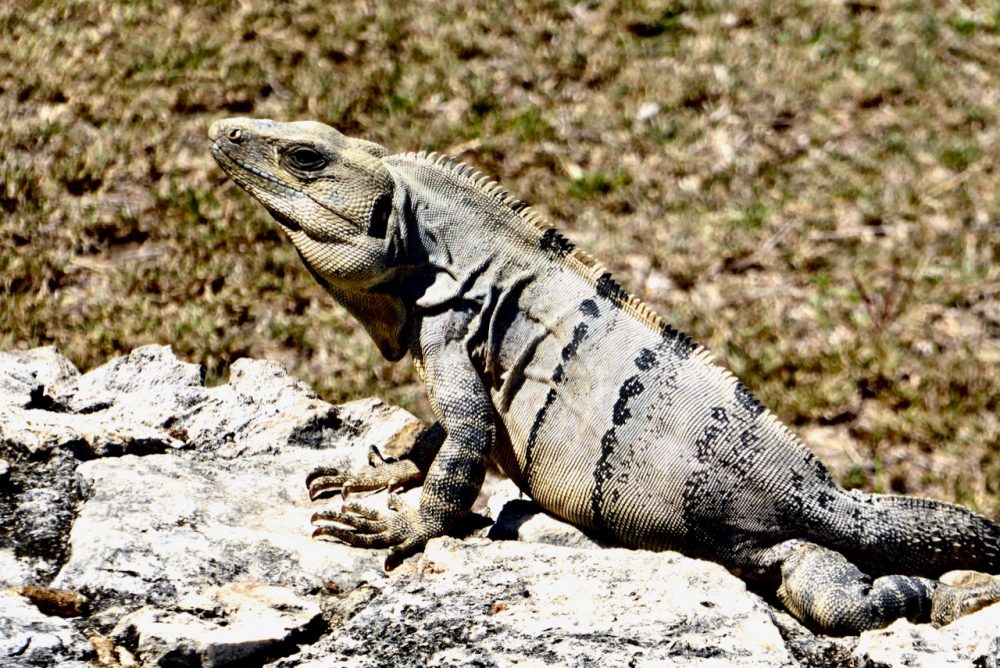 Mexico City Day One 24.4.2019: When we arrived back in Mexico City on the first of our eight day stay it was a real struggle coping with the high altitude and the smog. Plus the streets around the Downtown Mexico hotel were packed to the rafters. I guess that is what happens when one has over twenty-five million resides vying for space. After just over three weeks in the Yucatan jungle this was truly culture shock on a huge scale for Kim and I. We had arranged for some day tours over the coming days and first up was an educational walk around the old Zocalo of Mexico City. Our tour guide was an elderly gentleman and local historian named Hector Barraza and his morning tour was titled "The Forgotten Murals." It was totally absorbing and we saw all the main murals by the overlooked Mexican artists. My highlight was a visit to the Mexican Supreme Court but unfortunately no photographs allowed. Kim's was Jose Clemente Orozco's mural at the Antiguo Colegio de San Ildefonso. It was also nice to visit the church where Cortes was buried. Later that afternoon while out and about at the Zocalo I shot a dozen or so images of traditional Aztec artist and dancer Jorge Bernardino. There was no real backdrop to mask behind the images in the busy Zocalo square so I made sure I came in close and shot Jorge's head and shoulders that highlighted his interesting face paint and superb headdress. The image included in the short gallery below was my favourite from our quick fire collaboration. After creating a fine series of images with Jorge I decided to head back to the hotel for a well deserved rest. As I started to depart the Zocalo I spotted a small group of traditional Aztec dancers coming towards me. One of the gentlemen had this totally stunning regalia much like what Jorge had. I quickly introduced myself to Mikiztli Acatl and we both walked over to the stone wall of the Palace of the Governors and for around ten minutes we collaborated and much like Jorge's images we created stunning photographs.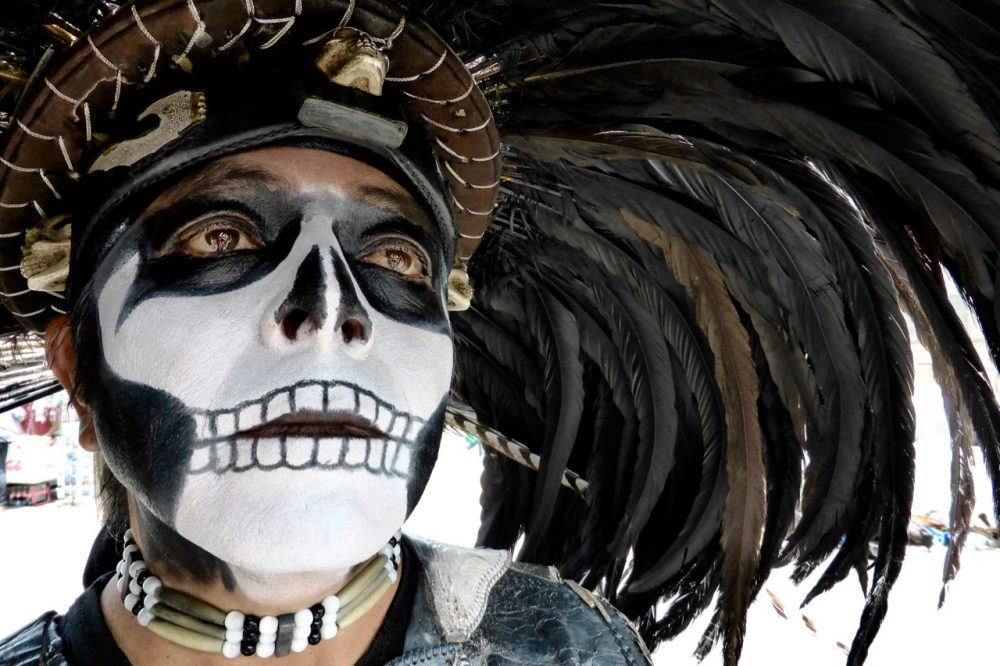 Mexico City Day Two 25.4.2019: Kim and I were up bright and early on Wednesday morning for our twelve hour tour of Teotihuacan and Tula with our guide and driver Carlos. When we arrived at Teotichuacan we went to the Pyramid of the Feathered Serpent. Later Kim and Carlos walked around the base of the majestic Pyramid of the Sun and I climbed the steps to the top. The view at the summit of the entire city was amazing. And the view across at the Pyramid of the Moon was awesome. For an old boy at the tender age of sixty-eight this was my ninth pyramid climb during the five week long road trip. Later we drove to Tula in the Mexican State of Hidalgo to visit the city of the Toltecs. It was a totally different experience from Teotihuacan. Although the archaeological site had some amazing preserved carvings. I climbed my tenth and final pyramid and the views were stunning. Later Kim, Carlos and I drove the two hours back to Mexico City. It was a huge day visiting two of Mexico's famous archaeological sites.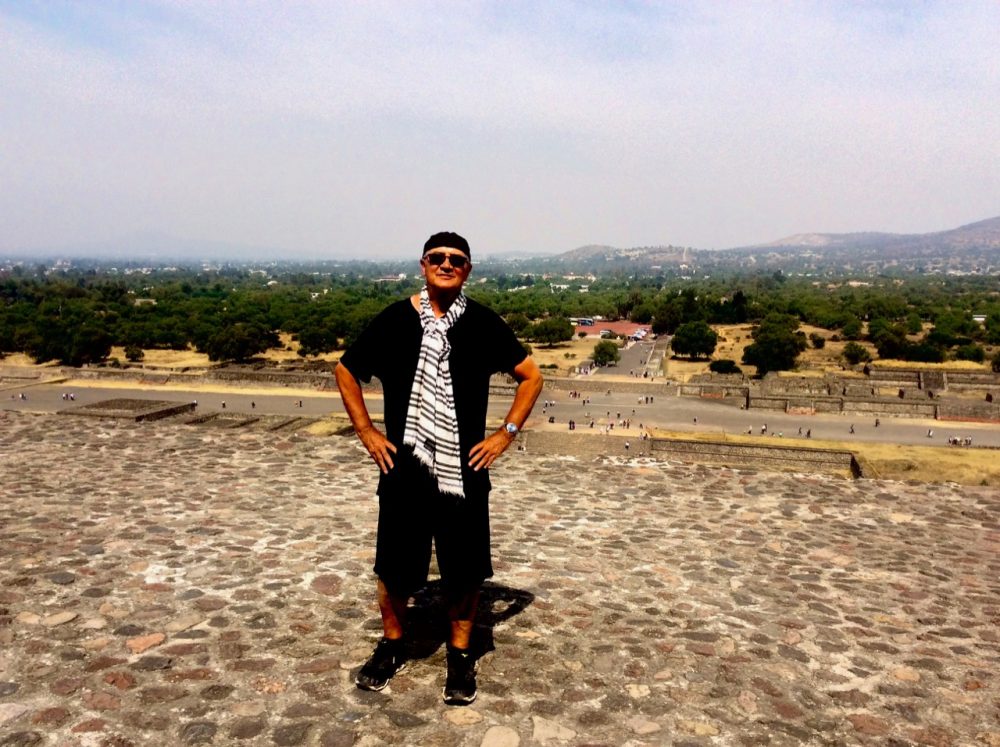 Mexico City Day Three 26.4.2019: After a long & busy day yesterday at Teotichuacan and Tula archaeological sites it was a sleep in, leisurely breakfast and a planned reset day within the surrounds of our Downtown Mexico hotel. The building was originally a seventeenth century palace and it had been thoughtfully restored and repurposed as hotel, hostel, artisan shops and restaurants. The rooms and amenities available were excellent and the hotel security service is five star plus. If you are not a guest at the hotel then you are quickly dispatched unless you are friends of hotel guests. Kim and I had a big road trip the following day with us heading out of Mexico City to the silversmiths city of Taxco. I was still buzzing after my climb to the summit of the majestic Pyramid of the Sun at Teotichuacan. Sadly there was no aliens waiting at the top to say well done my Scottish laddie! On the way back to the Downtown Mexico Hotel I bumped into Aztec Dancer Mikiztli Acatl and his wife Danita and daughter Xitlalli. I did not plan to catch up with Aztec dancer Mikiztli Acatl this afternoon. Although one never knows just what roads await the creative artist when out and about. We chatted briefly and for a second time Mikiztli and I shot a series of images this time with a golden yellowish wall as our backdrop located on a side street next to the Zocalo. It was extremely hard for the both of us but after one hour we had nailed it image wise once again. Sadly there was a small or should I say a huge problem with a part of his necklace regalia but that is a story for another day.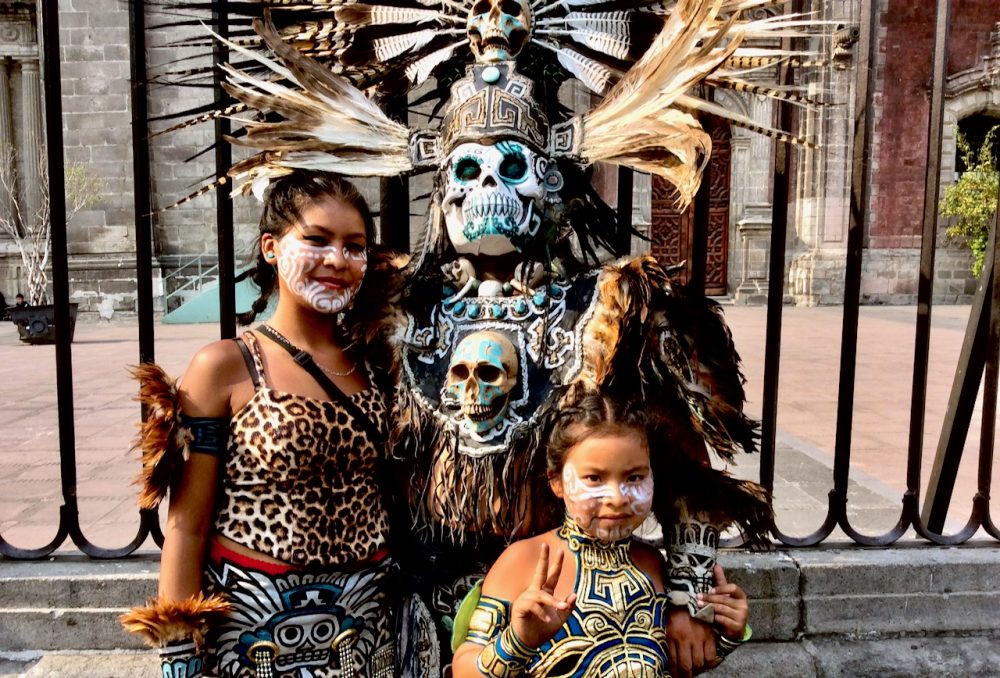 Mexico City Day Four 27.4.2019: Headed out to the city of Taxco from Mexico City sharp and early with Juan and David our Mexican guides. It took around three hours to reach the silver city high up in the Mexican mountains. Kim enjoyed checking out all the beautiful silversmiths jewellery. Later we visited the cathedral which was stunning and the Spratling Museum. It was totally weird and amazing walking around the winding cobbled streets that had no pedestrian footpaths. The small bettle taxi cabs really had their shit together when moving around the city. It was a tough ride back to Mexico City what with the heat and humidity and a tired but contented tourists and their excellent guided tour of Taxco City.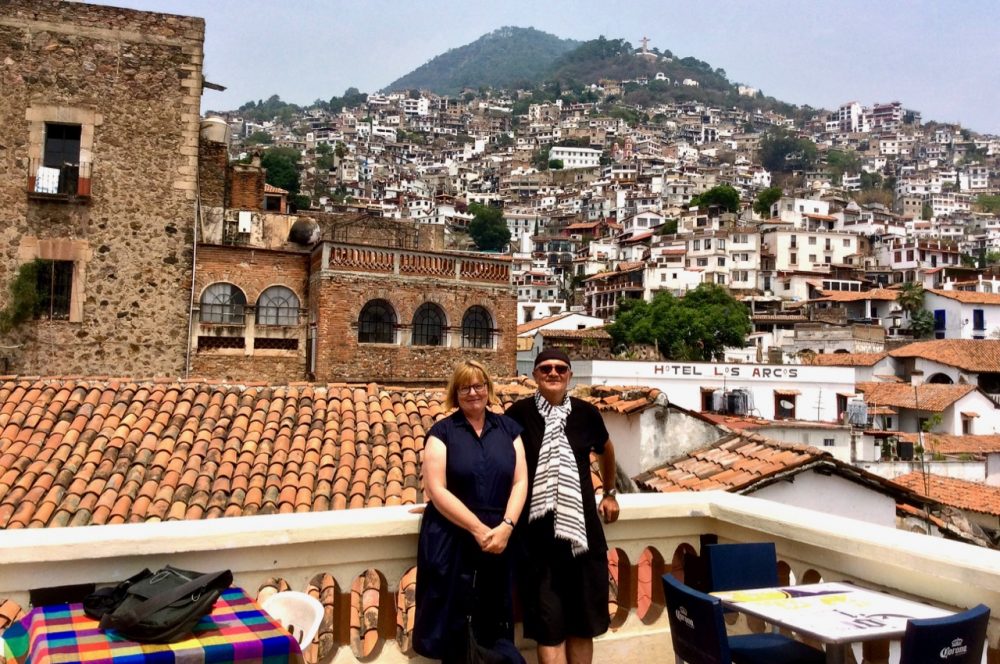 Mexico City Day Five 28.4.2019: Not long now until Kim and I catch the big bird back to good old Sydney, Australia. Three days in total left on the five week road trip that has seen us visit ten Aztec, Toltec and Mayan archaeological sites. This has also seen us live and travel through six Mexican states. Today was the first coolish and overcast day we have experienced on the trip and it was an opportunity to wear a long pair of pants and dress shirt when we visited the National Museum of Anthropology. Travelling around Mexico has been such a blast over the last month and a half. And to stay in Mexico City is totally awesome. This huge city with its nine million inhabitants from all walks of life and diverse ethnic backgrounds all get along like a house on fire. After visiting the National Museum of Anthropology with its art collections and stories that date back thirty-five thousand years is totally mind blowing stuff. I have lived and travelled around many of the worlds famous cities but nothing compares to Mexico City. And for cultural institutions the National Museum of Anthropology is in a class of its own.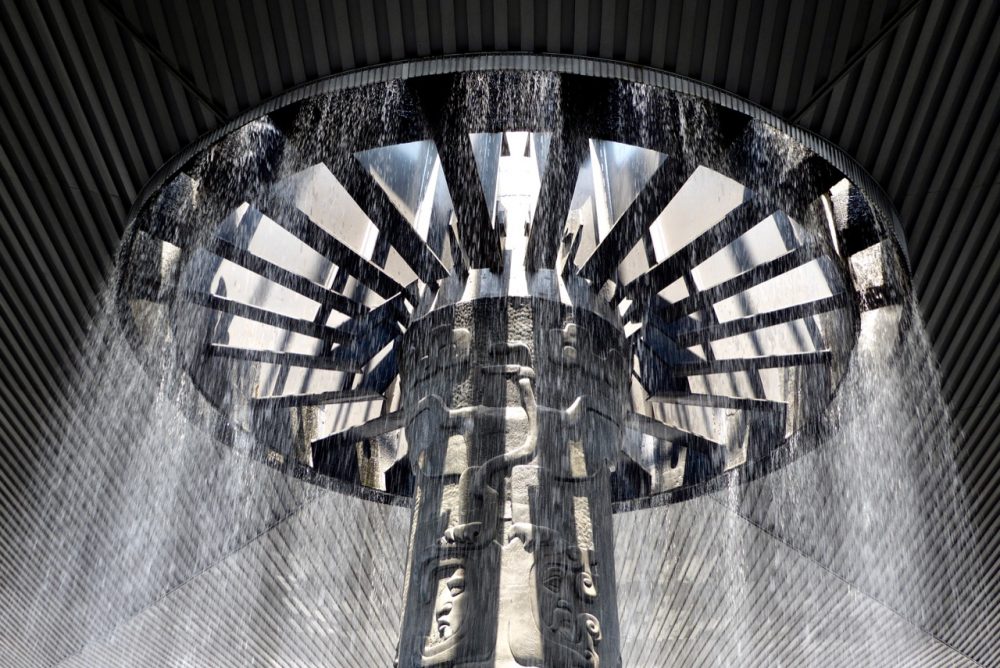 Mexico City Day Six 29.4.2019: Kim and I went out on our second last day in Mexico City to the Zocalo to meet up with Aztec dancer Mikiztli Acatl for our third and final photographic shoot. We had a regalia and camera issue to iron out from the second shoot. This time around everything went extremely well and a powerful series of images were imagined and composed with no hitches. We again went down the side street next to the Zocalo with its yellowish golden wall paint. As we worked tourists andd locals walked behind us much like what a busy Saturday afternoon shopping day out would look like. Kim was posted on lookout as there was more than a few suspect individuals hanging around waiting for the opportunity to snatch some goodies. Later that afternoon I caught up with Mikiztli as he and his family were getting ready to head out of Mexico City back to their home. We shook hands and I wished him all the best for the rest of 2019. It has certainly been a hands of time experience for both of us in Mexico City.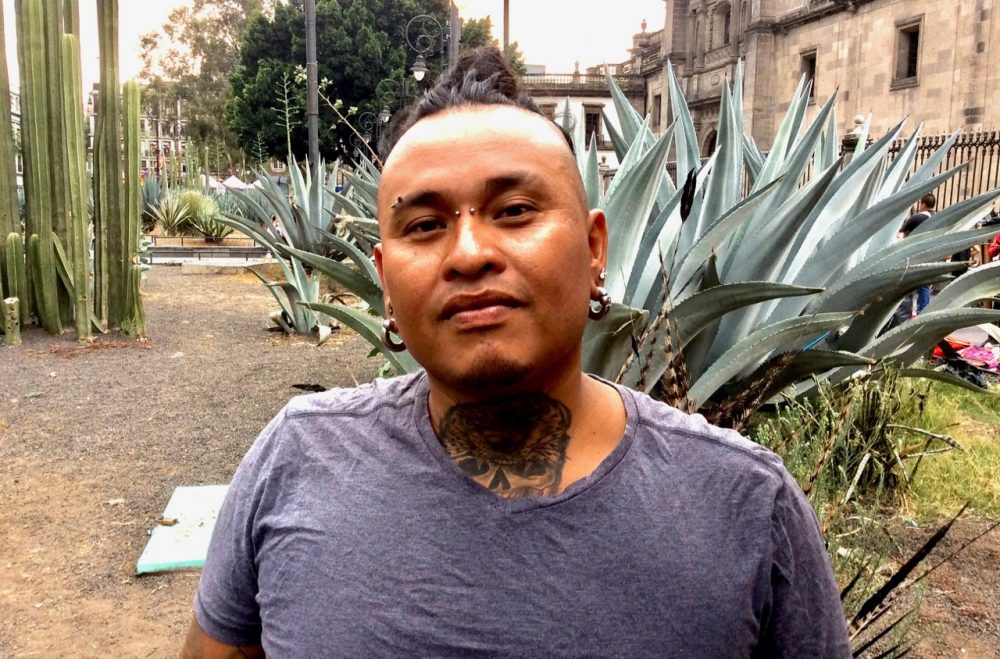 Mexico City Day Seven 30.4.2019: After the photographic shoot with Mikiztli was finished yesterday afternoon Kim and I went to have a look around the archaeological site at museo del temple mayor. The history of the site was beautifully presented and the museum was totally awesome and inspiring. Well that is Mexico 2019 done and dusted. And apart from the extreme heat and humidity it has been one hell of a road trip. Today Kim and I visited the Gran Hotel on the Zocalo along with a quick side trip to the cathedral. But the real gem was our visit to the Ministry of Public Education Building to see the murals by Diego Rivera. This famous Mexican artist worked on the murals from 1923 to 1929. It was a magic way to end a memorable last day in Mexico City. If there was one Mayan artefact from a bygone era that caught our eye and truly left a lasting impression it was the jade mask discovered at the majestic city of Calakmul. Kim and I were both fortunate to see it in all its glory at the small museum in Campeche. Plus the small detailed gold earrings the National Museum of Anthropology were amazing in their fine gold detail. The jade mask one of many excavated from the archaeological site at "museo del temple mayor" again inspired and made one imagine that golden Aztec period in history. As regarding what Mayan left a lasting impression when one considers the size and scale of World Heritage sites of Uxmal and Chichen Itza both Kim and I agreed it was Mayapan our first site visited in the Yucatan jungle. When our driver Ricardo dropped us at the entrance and we purchased our entry tickets we found ourselves walking around for over forty minutes exploring the ruins and pyramids with no one else around. Plus it was the first pyramid I climbed to the top and viewed the magnifacient Yucatan jungle. It was also during our walk around Mayapan that we encountered the first of many Iguanas during our jungle treks. A special thanks go out to all the Mexican people who serviced us during our stay in their beautiful country. Money is always needed for wants and needs as Lakota Jack Little would always say. But I guess a smile and a friendly face can win out most of the time when there is human contact at the double yellow line of the road. Goodbye Mexico it was such a blast! See you next time around!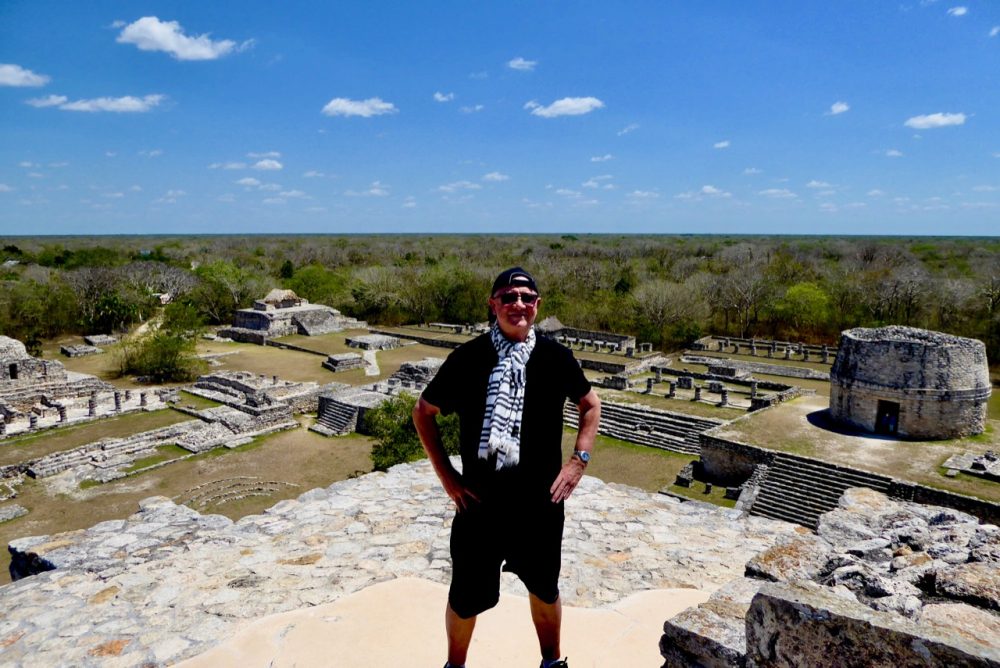 Pyramid Climbing Mayapan Yucatan Peninsula Mexico 2019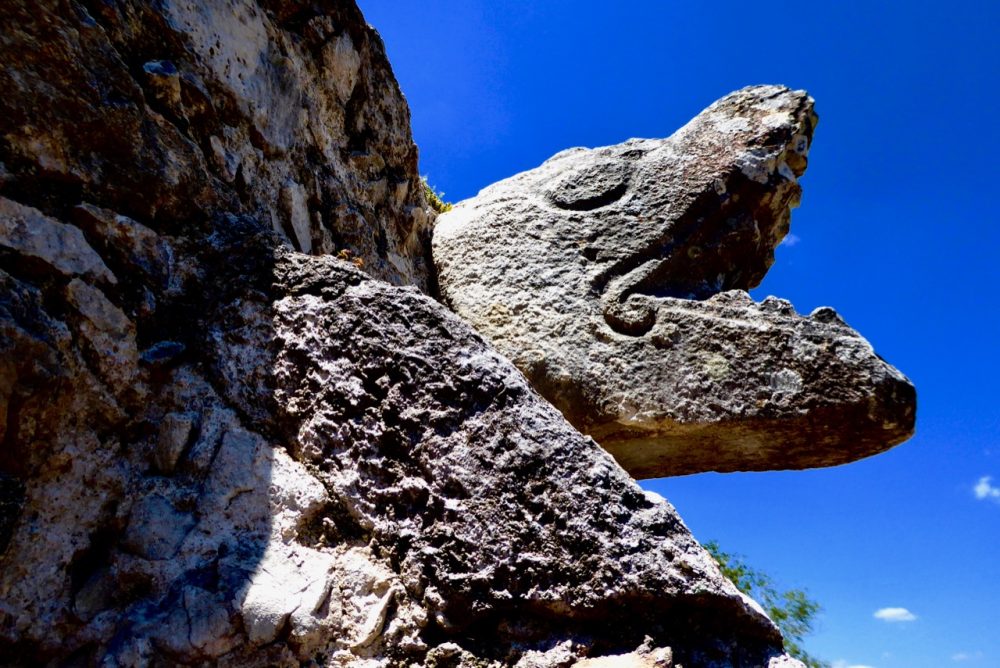 Mayapan Yucatan Peninsula Mexico 2019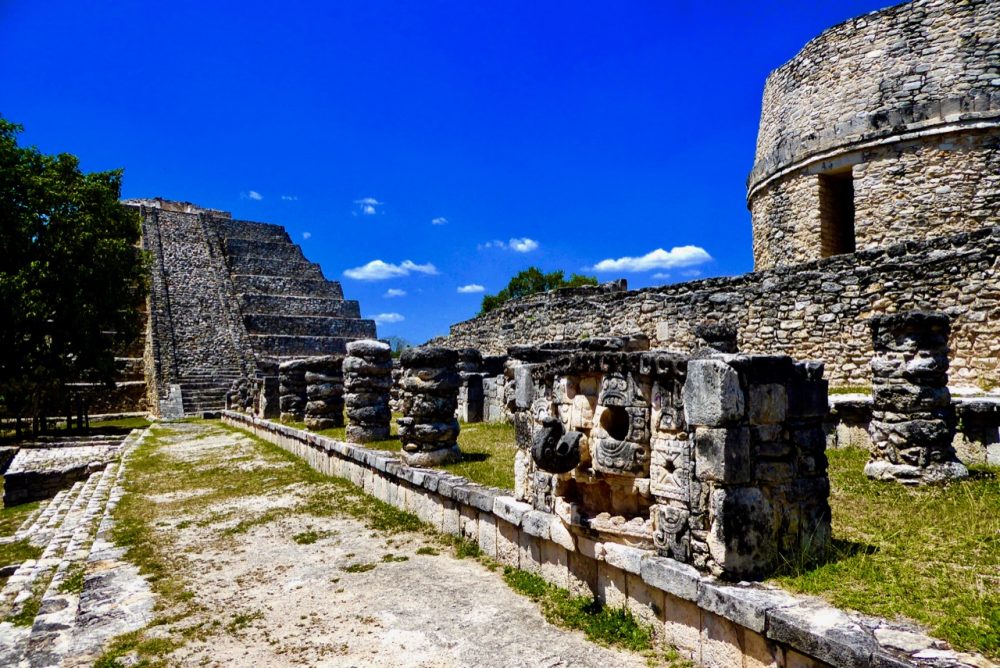 Mayapan Yucatan Peninsula Mexico 2019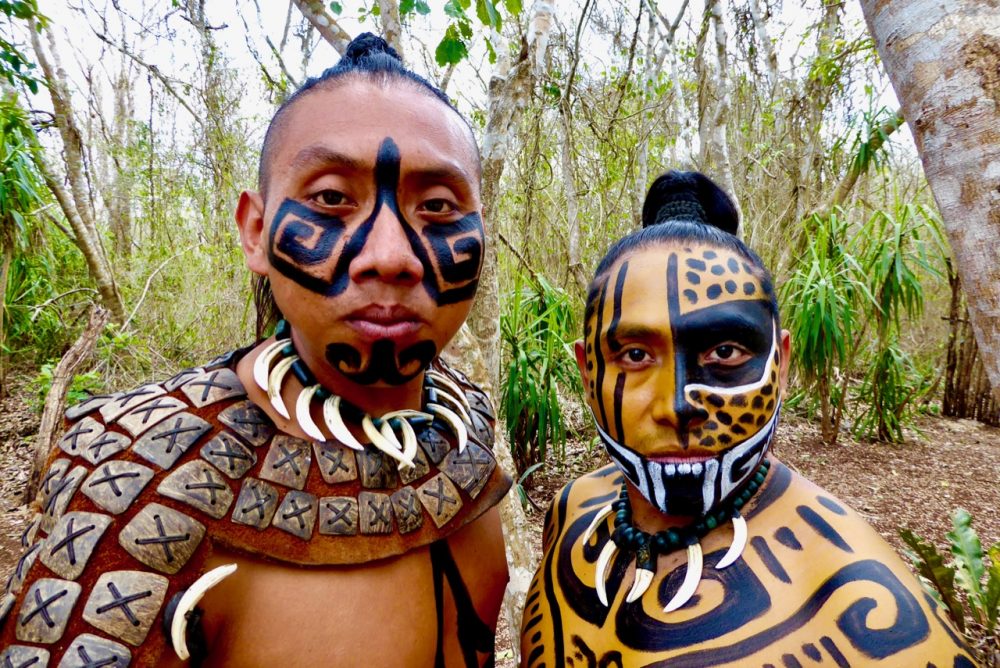 Gabino Tuz & Modesto Tuz Chan Ek Balam Yucatan Peninsula Mexico 2019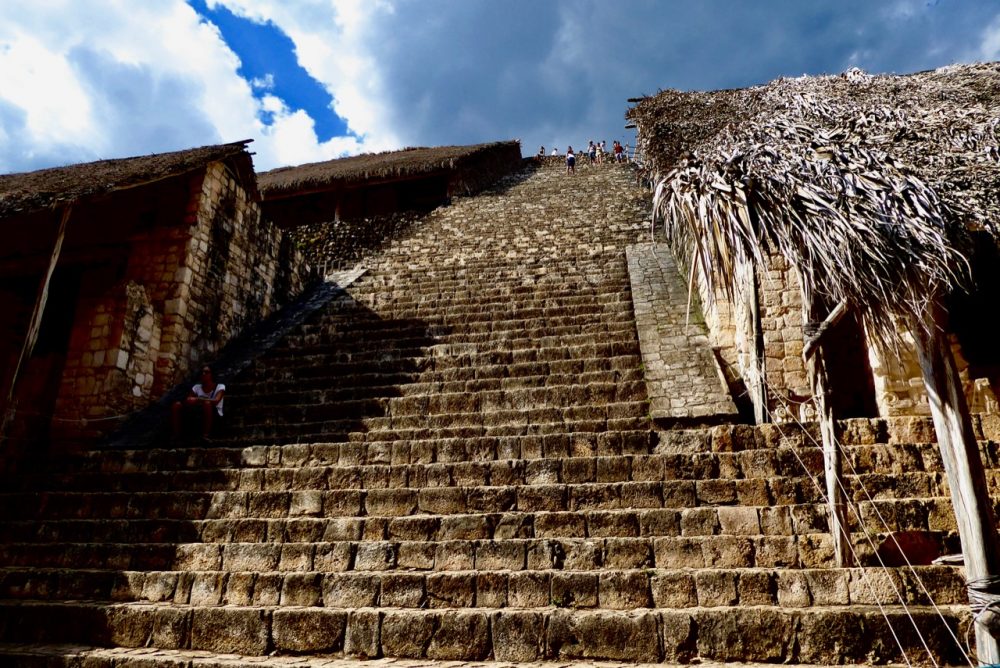 Ek Balam Yucatan Peninsula Mexico 2019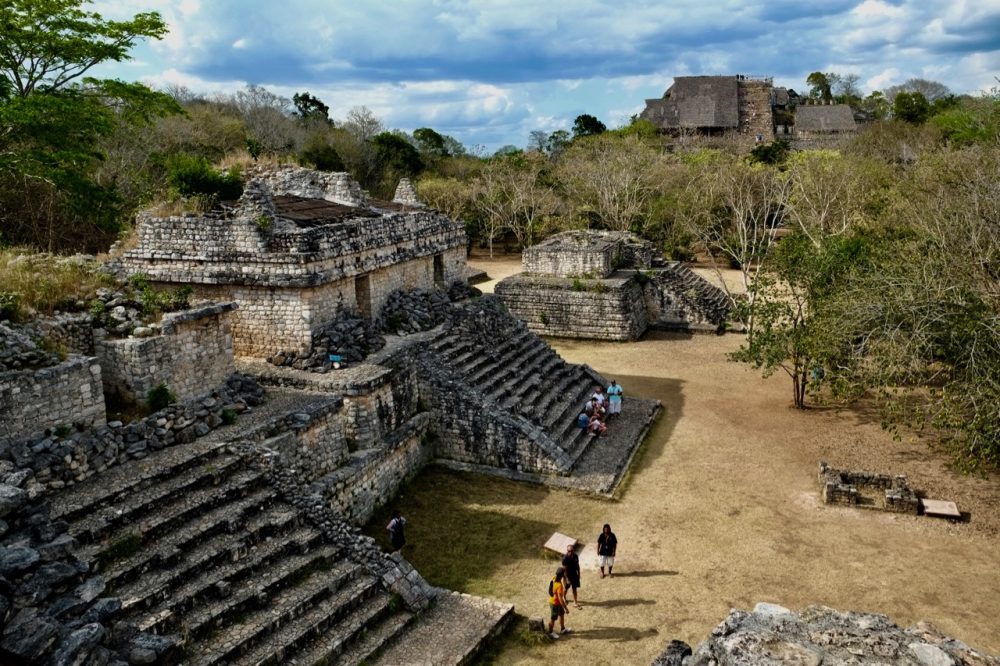 Ek Balam Yucatan Peninsula Mexico 2019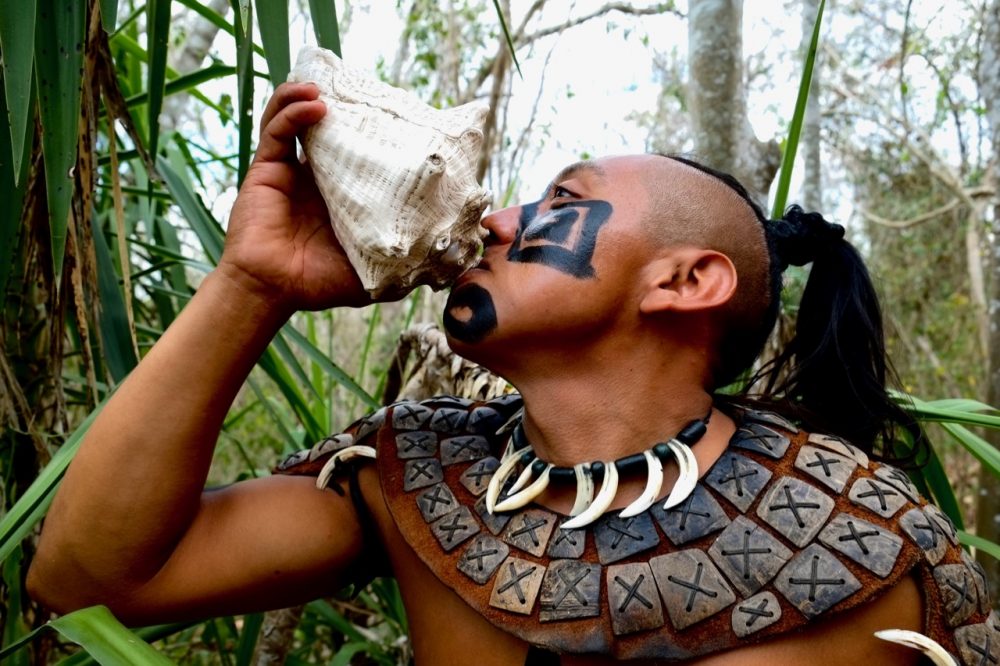 Gabino Tuz Mayan Ek Balam Yucatan Peninsula Mexico 2019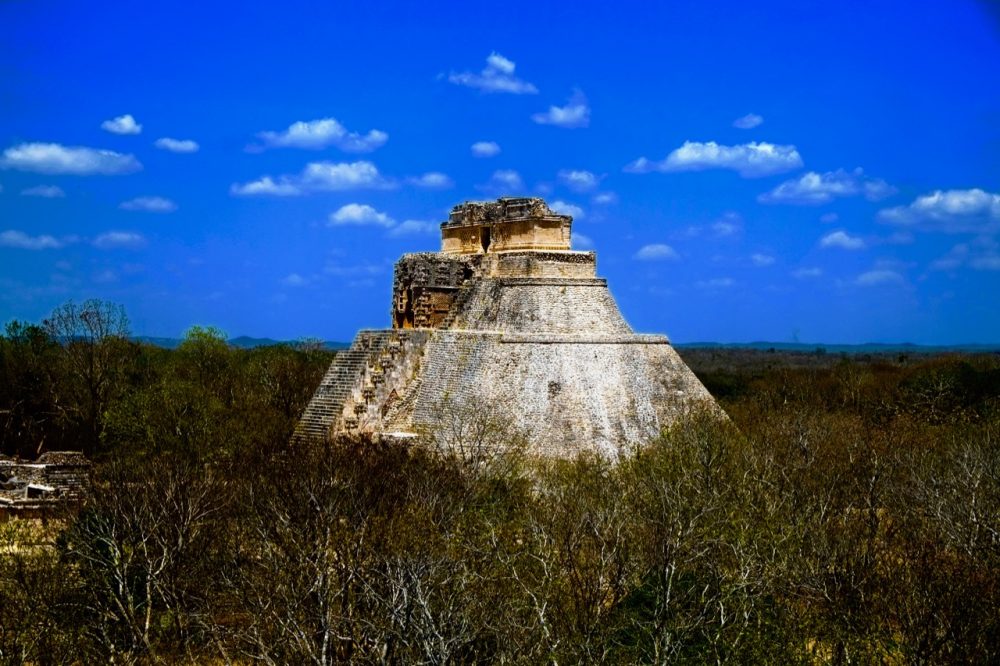 Pyramid of the Magicians Uxmal Yucatan Peninsula Mexico 2019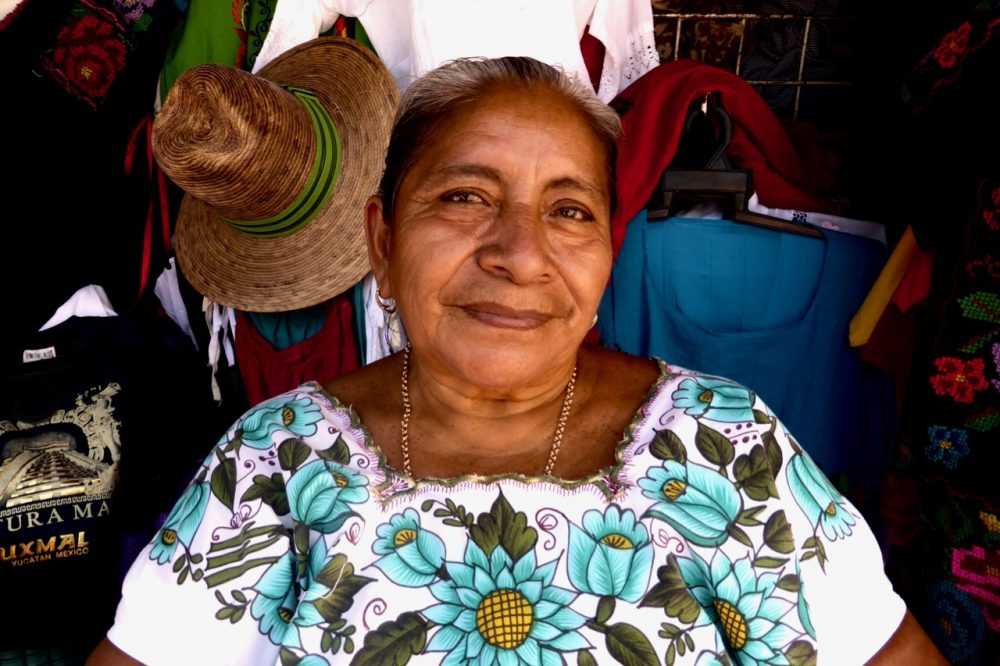 Louisa Local Vendor Uxmal Yucatan Peninsula Mexico 2019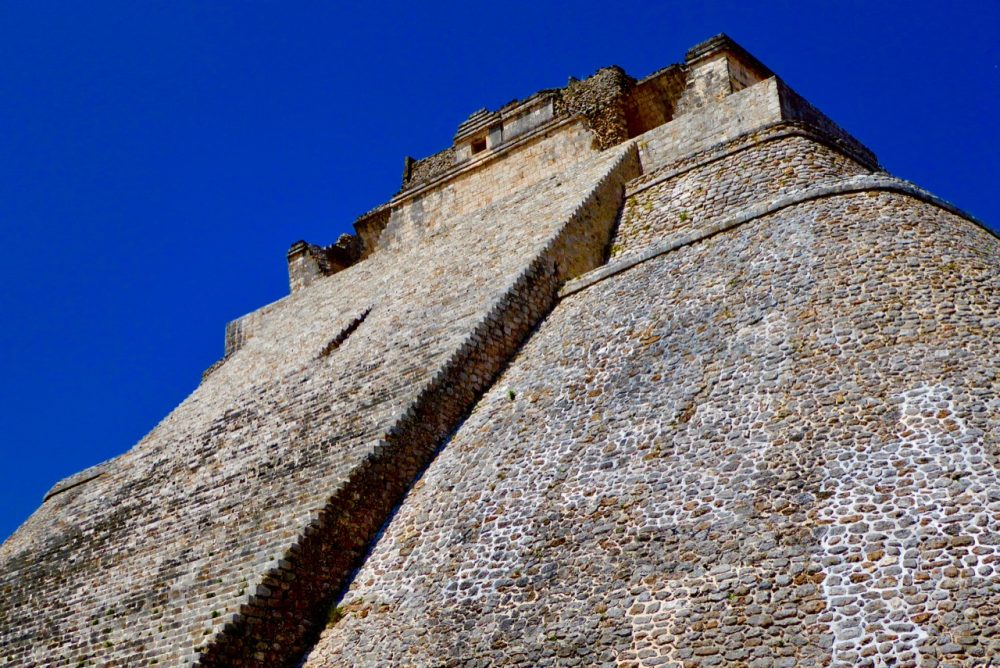 Pyramid of the Magicians Uxmal Yucatan Peninsula Mexico 2019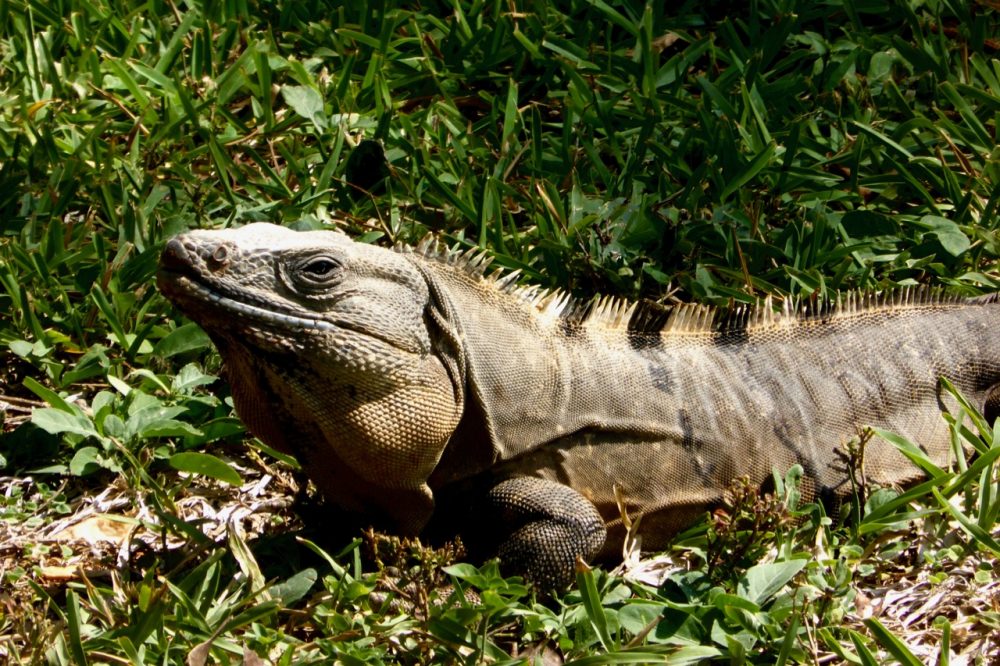 Chilled Out Iguana Uxmal Yucatan Peninsula Mexico 2019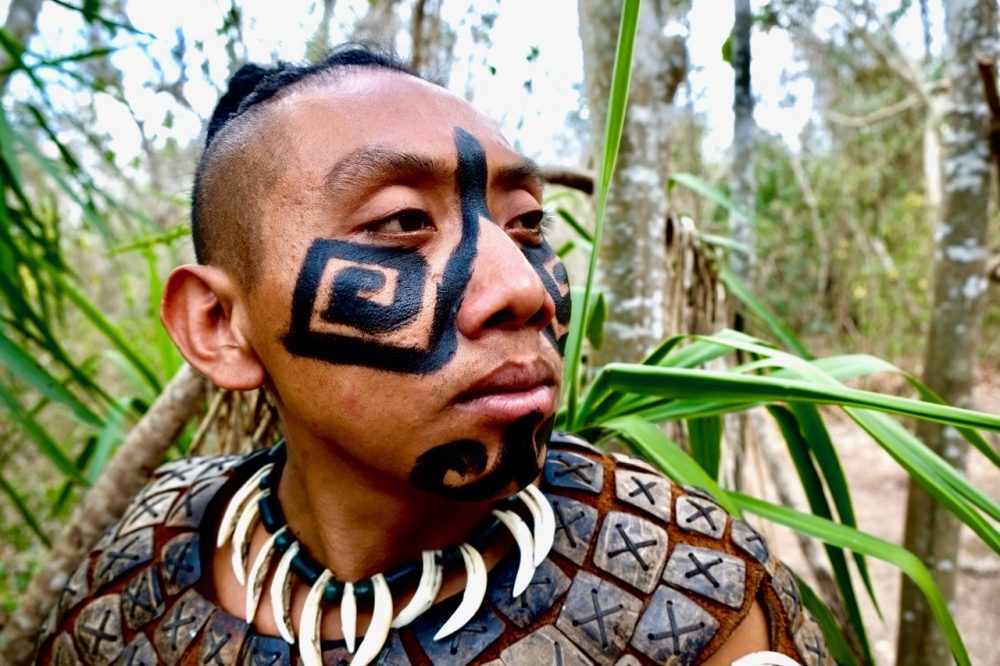 Gabino Tuz Mayan Ek Balam Yucatan Peninsula Mexico 2019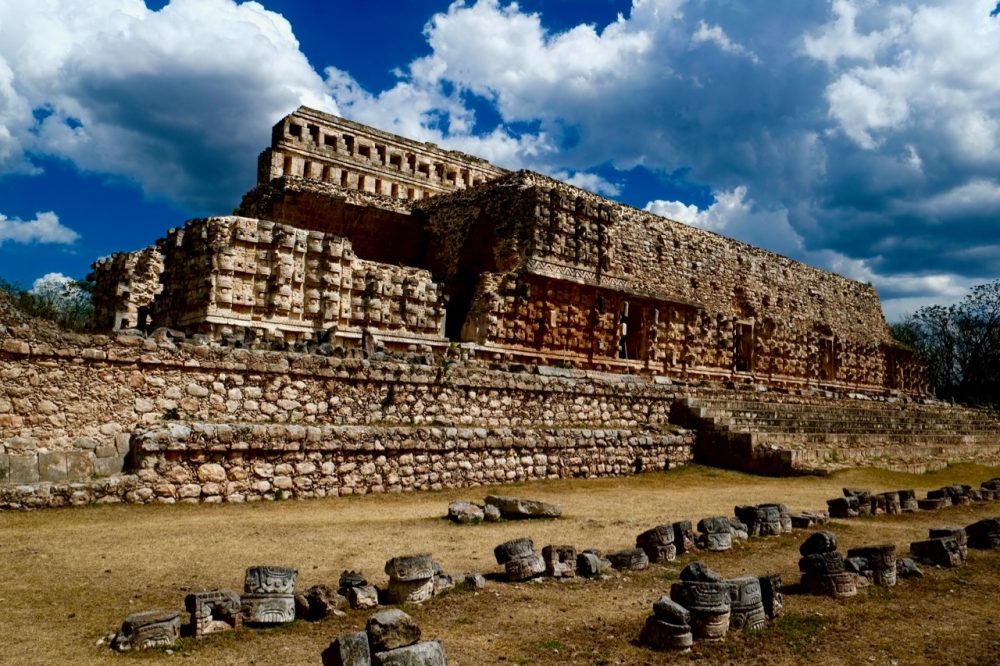 The Codz Poop Palace Kabah Yucatan Peninsula Mexico 2019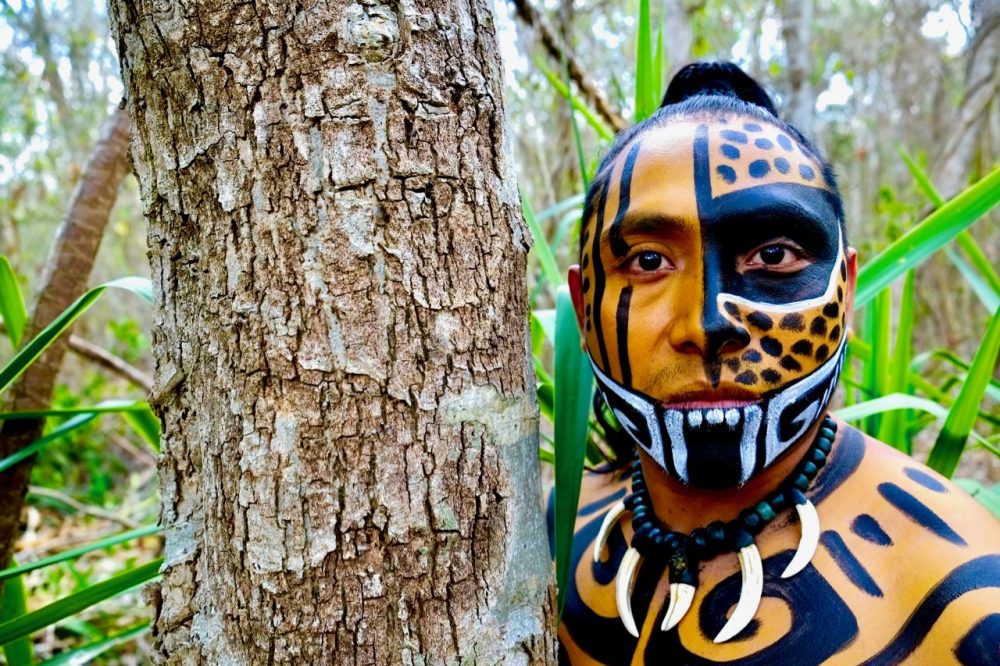 Modesto Tuz Chan Mayan Ek Balam Yucatan Peninsula Mexico 2019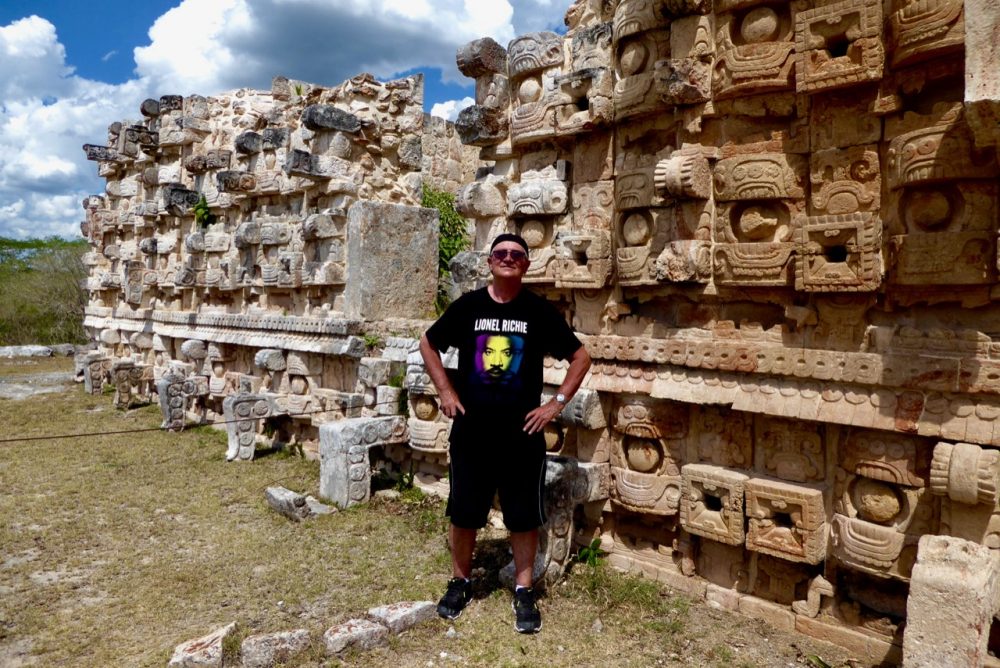 The Codz Poop Palace Kabah Yucatan Peninsula Mexico 2019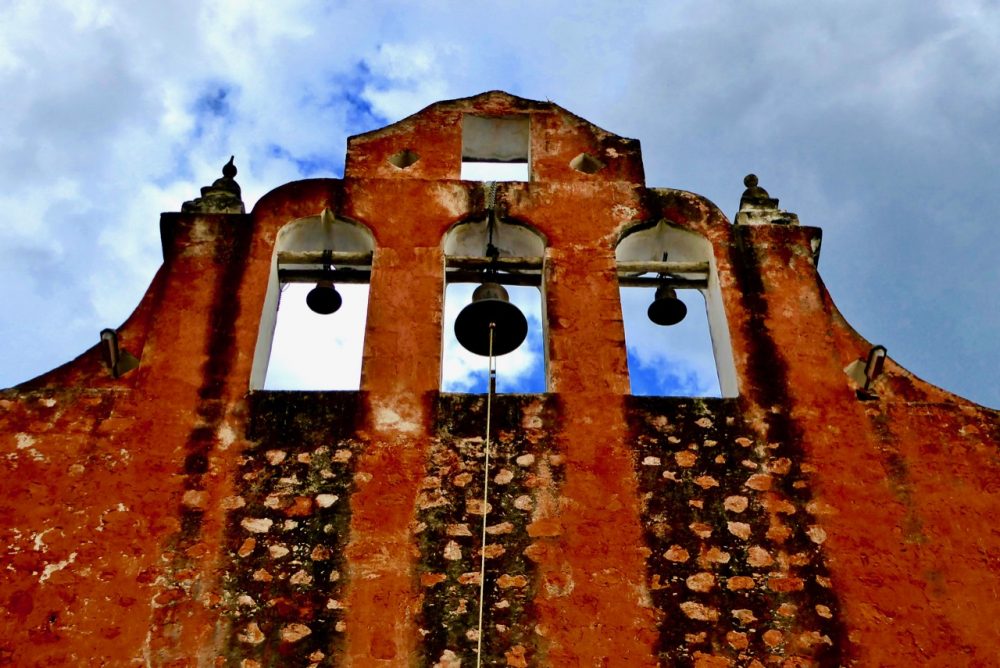 Church Bells Ringing Ek Balam Mexico 2019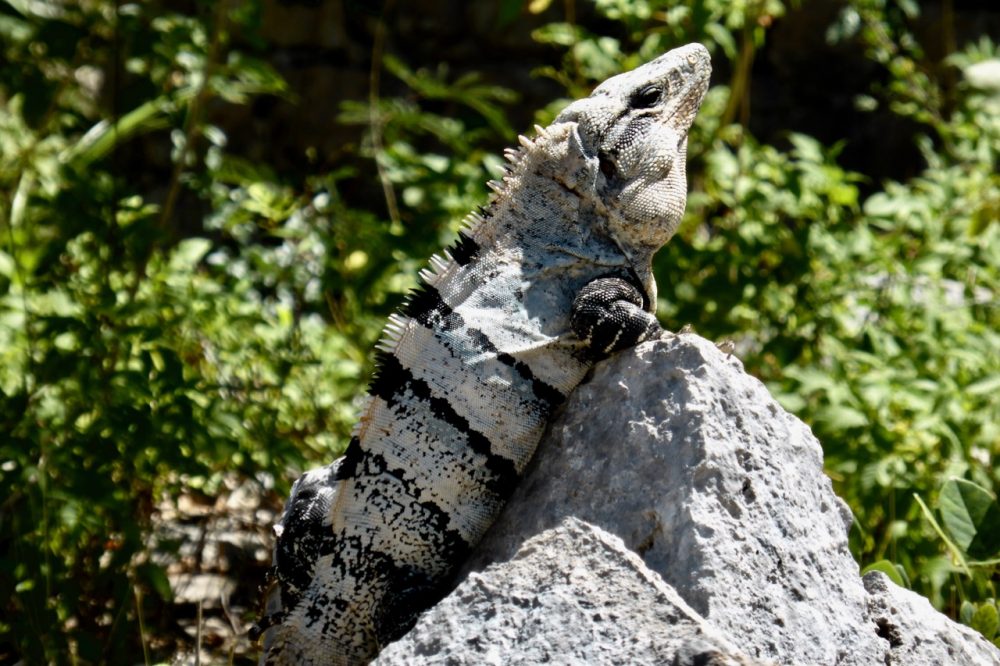 Chilled Out Iguana Chichen Itza Yucatan Peninsula Mexico 2019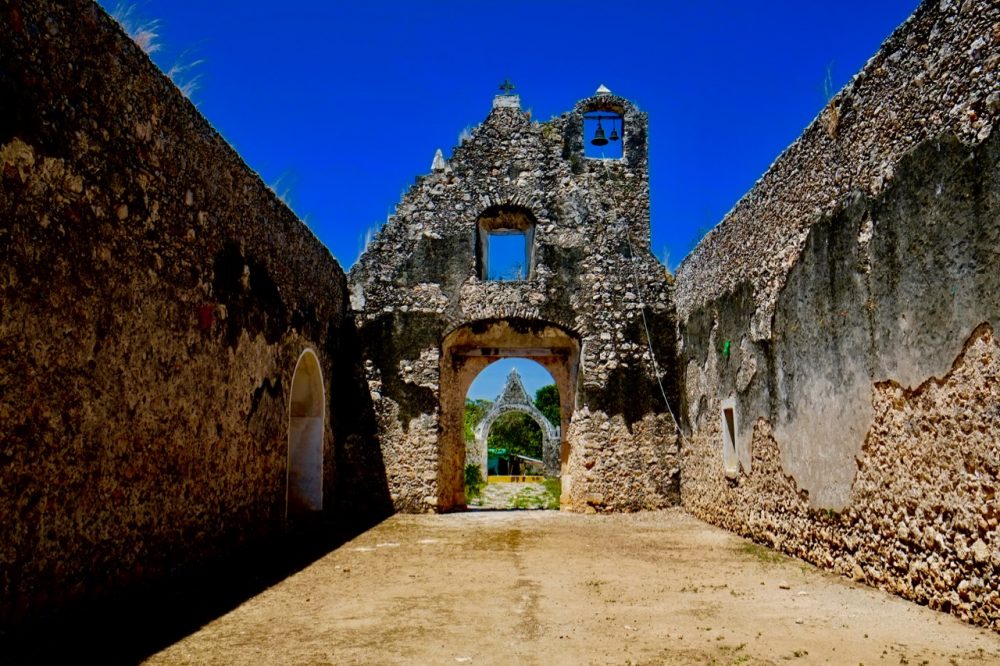 Old Ruined Church Near Izamal Yucatan Peninsula Mexico 2019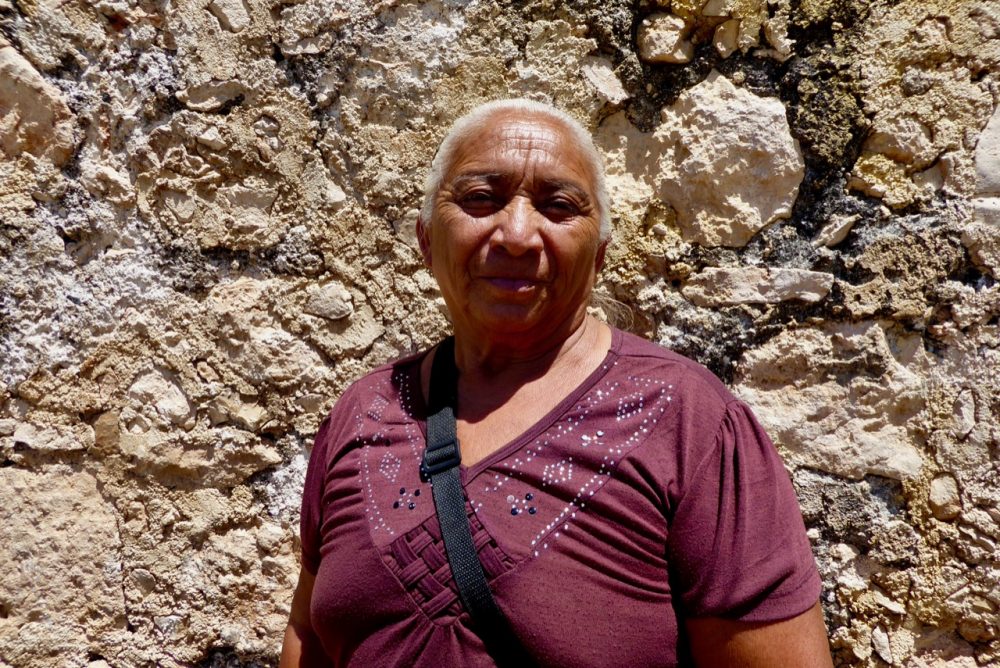 Local Mexican Lady Near Izamal Yucatan Peninsula Mexico 2019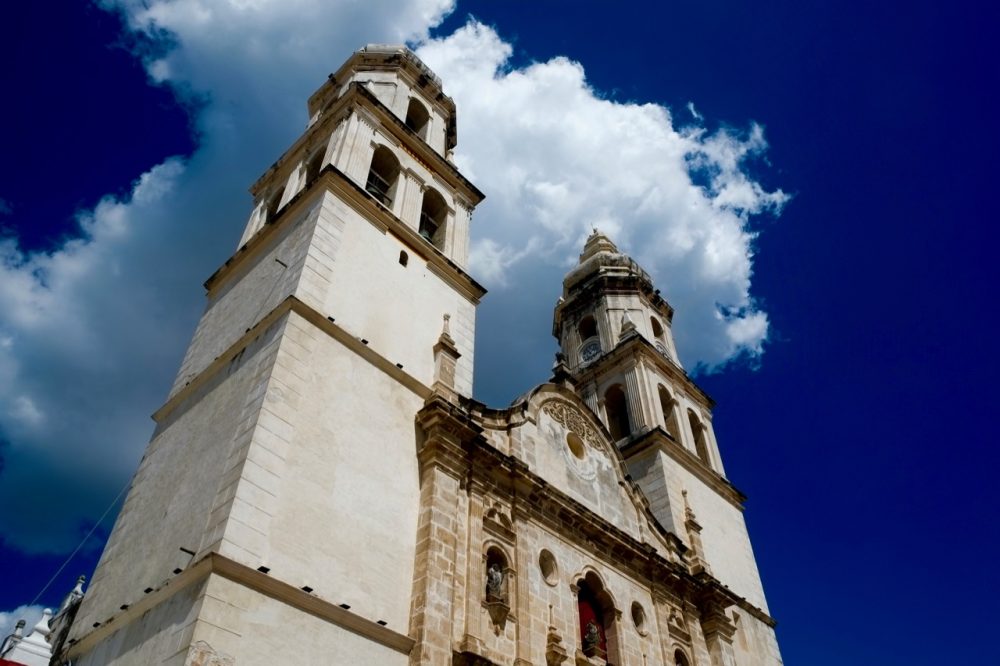 Catedral de San Francisco de Campeche Campeche Mexico 2019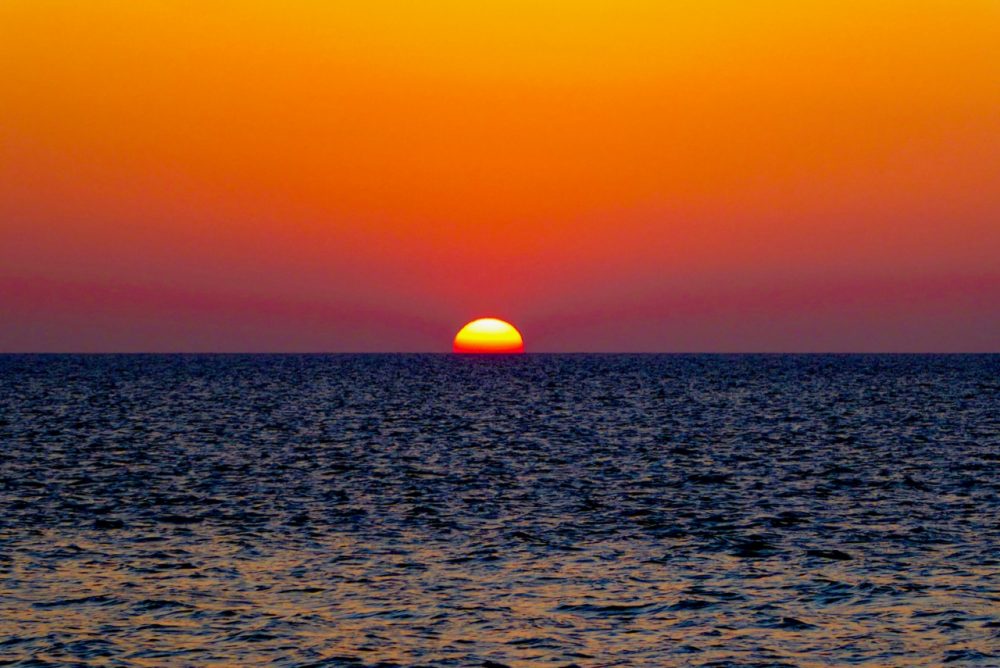 Campeche Sunset Campeche Mexico 2019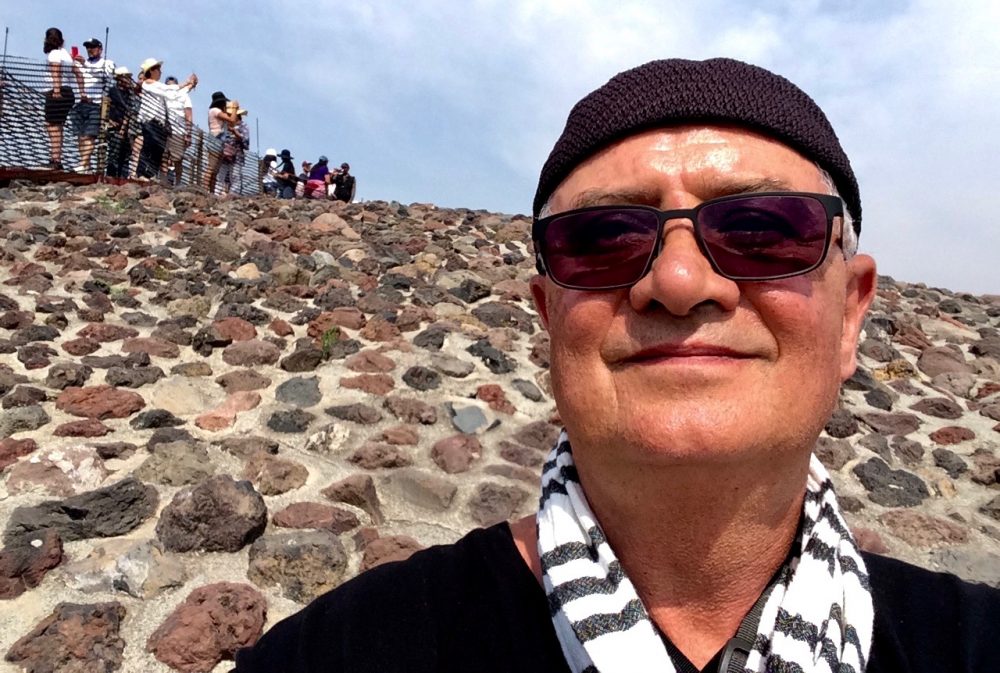 Andrew's Summit Selfie Teotihuacan Pyramid of the Sun Mexico 2019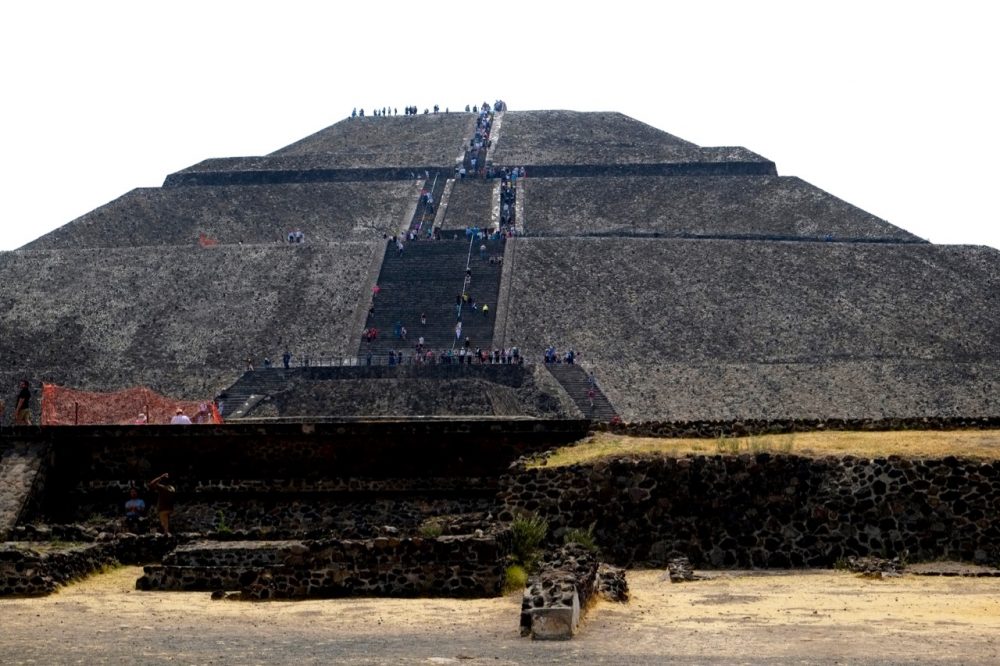 Pyramid of the Sun Teotihuacan State of Mexico Mexico 2019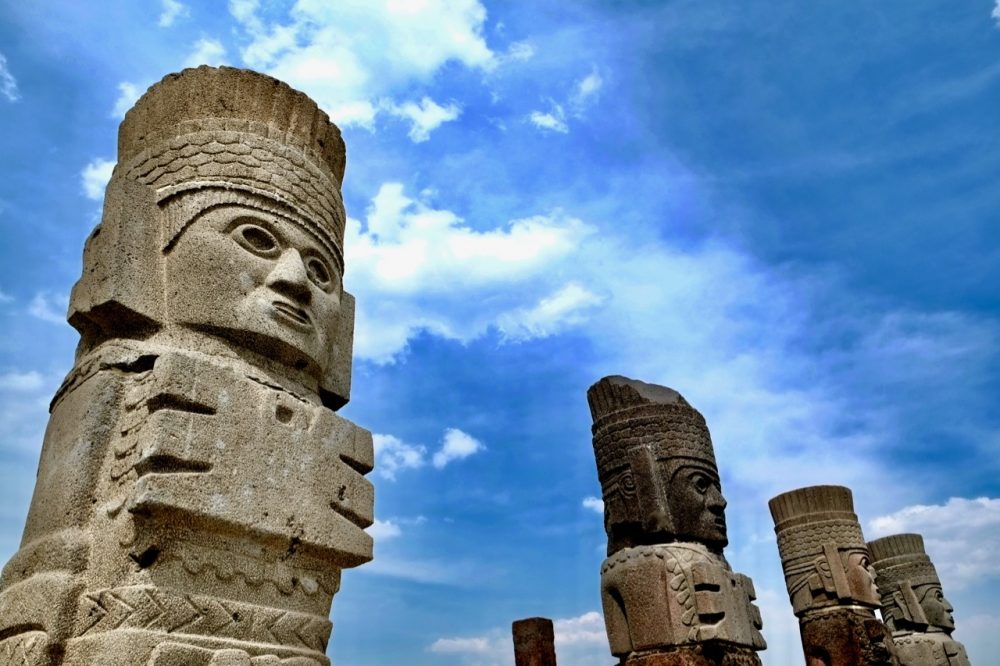 Tula Hidalgo Mexico 2019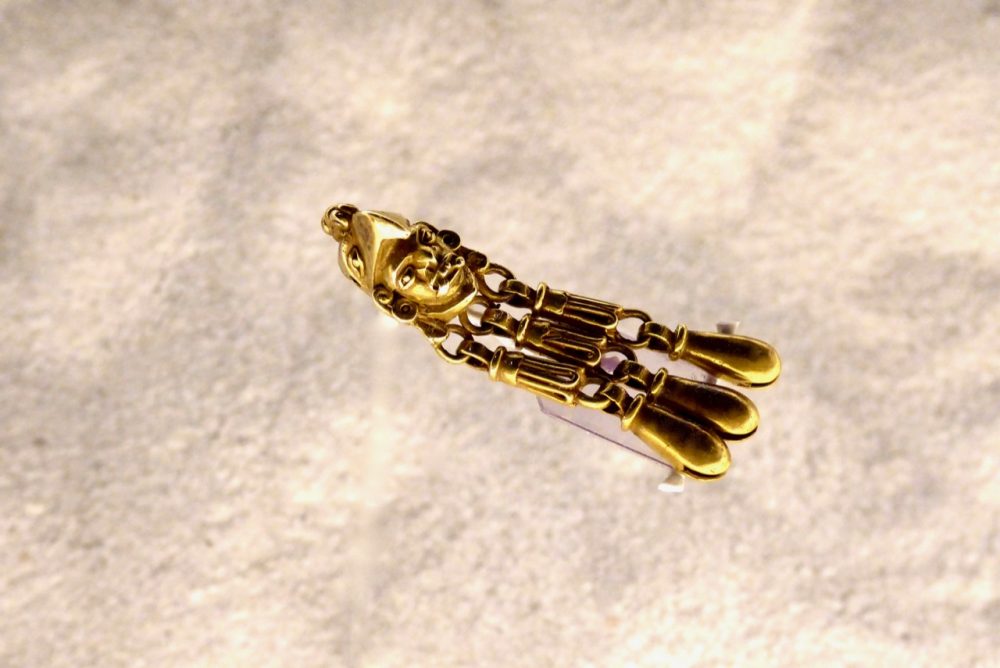 Mayan Gold Earring Mexico National Museum of Anthropology 2019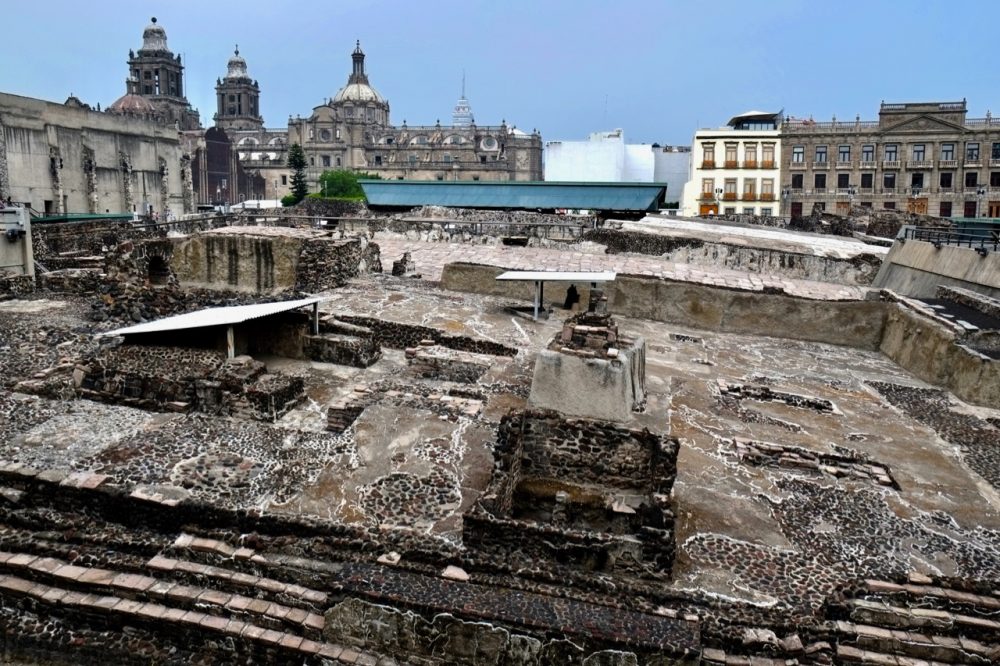 Museo Del Temple Mayor Mexico City Mexico 2019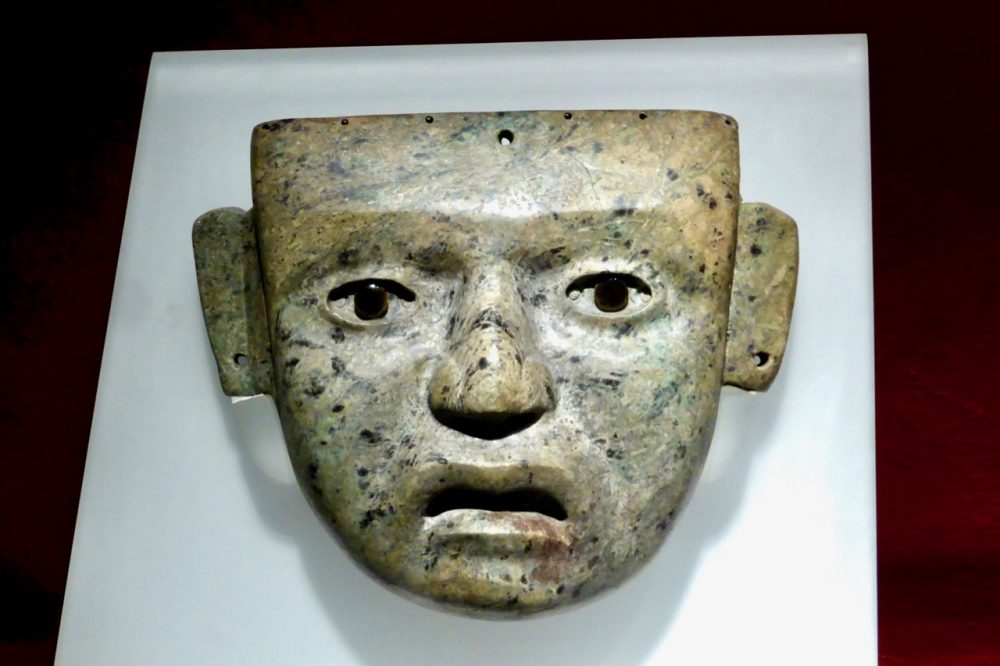 Jade Mask Museo Del Temple Mayor Mexico City Mexico 2019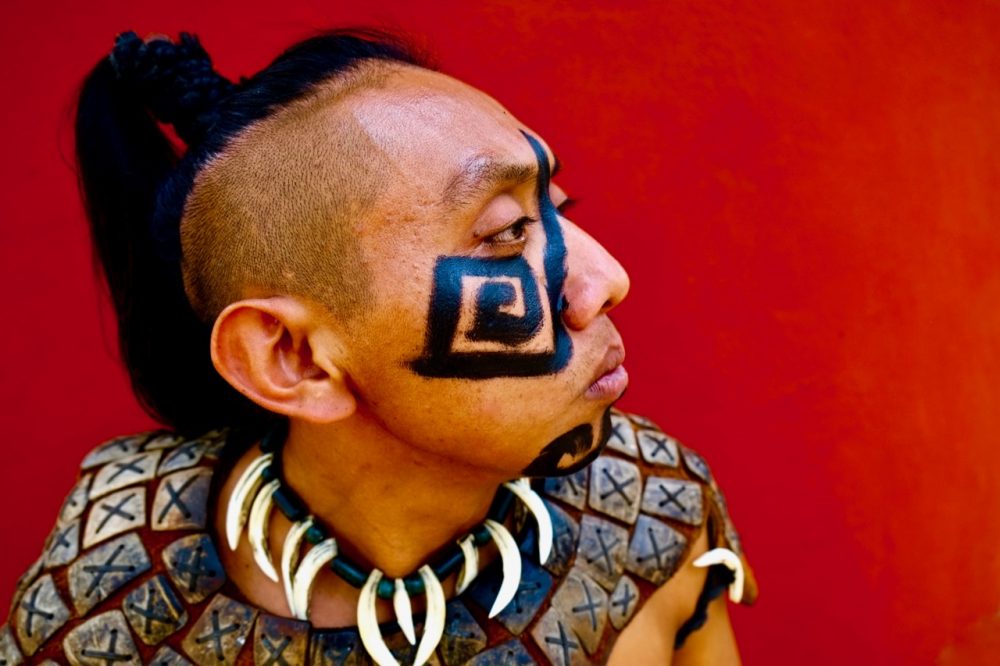 Gabino Tuz Mayan Ek Balam Yucatan Peninsula Mexico 2019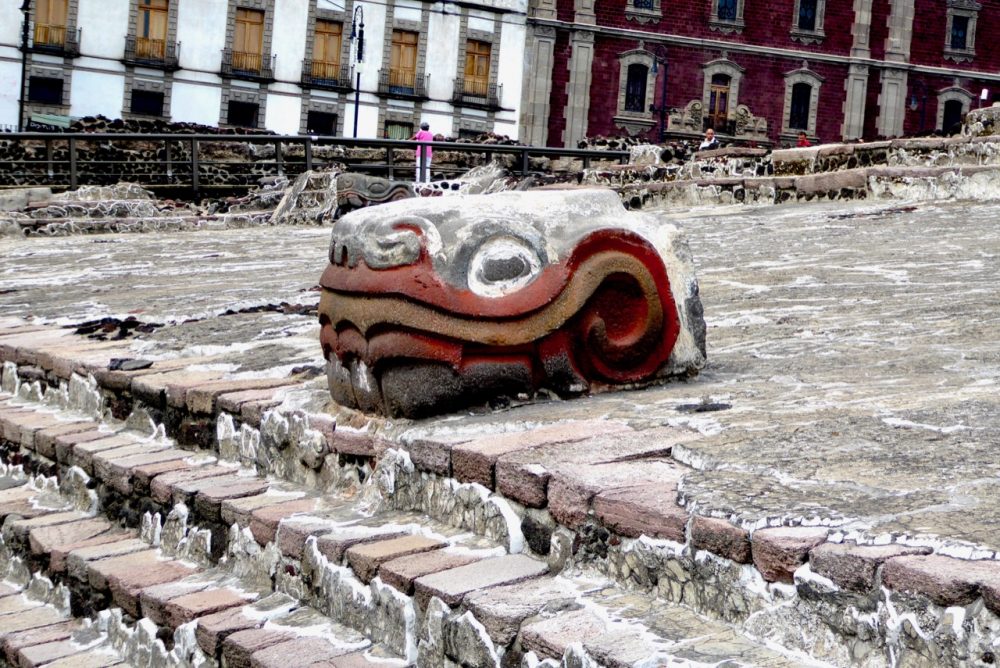 Museo Del Temple Mayor Mexico City Mexico 2019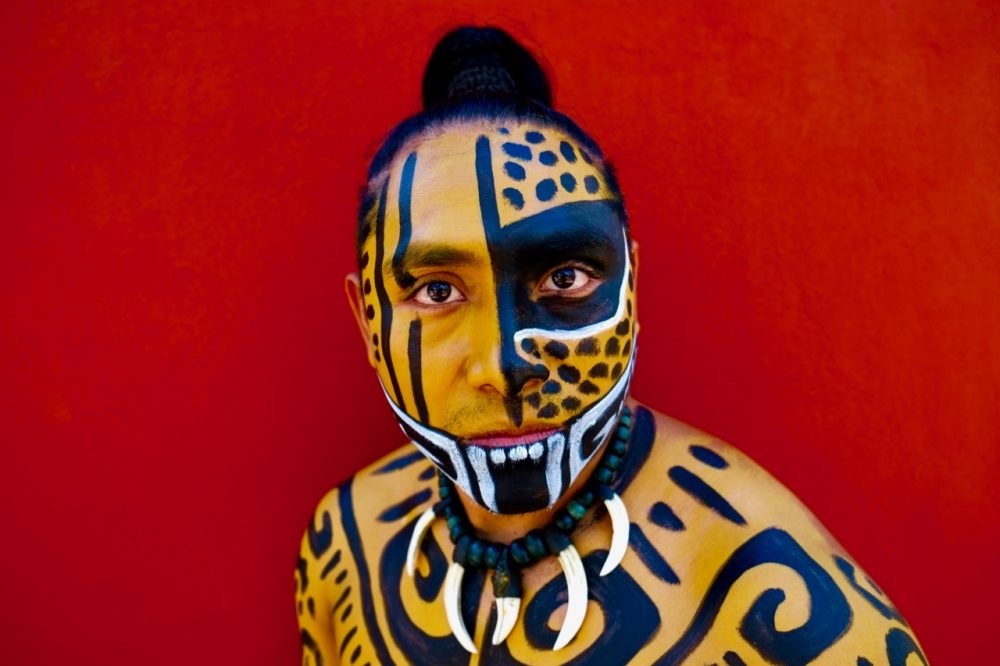 Modesto Tuz Chan Mayan Ek Balam Yucatan Peninsula Mexico 2019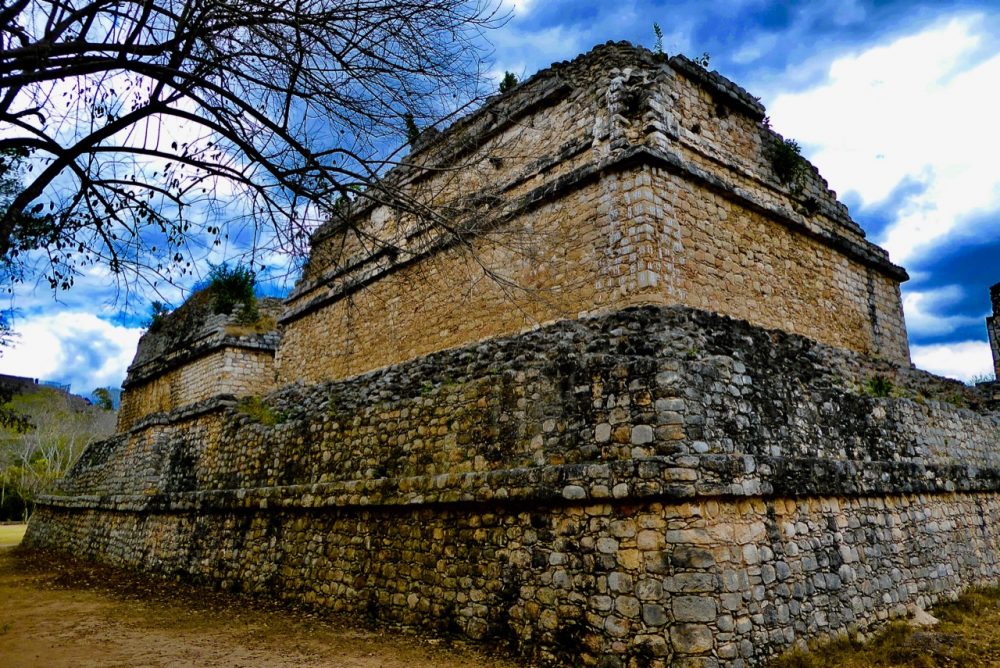 Ek Balam Yucatan Peninsula Mexico 2019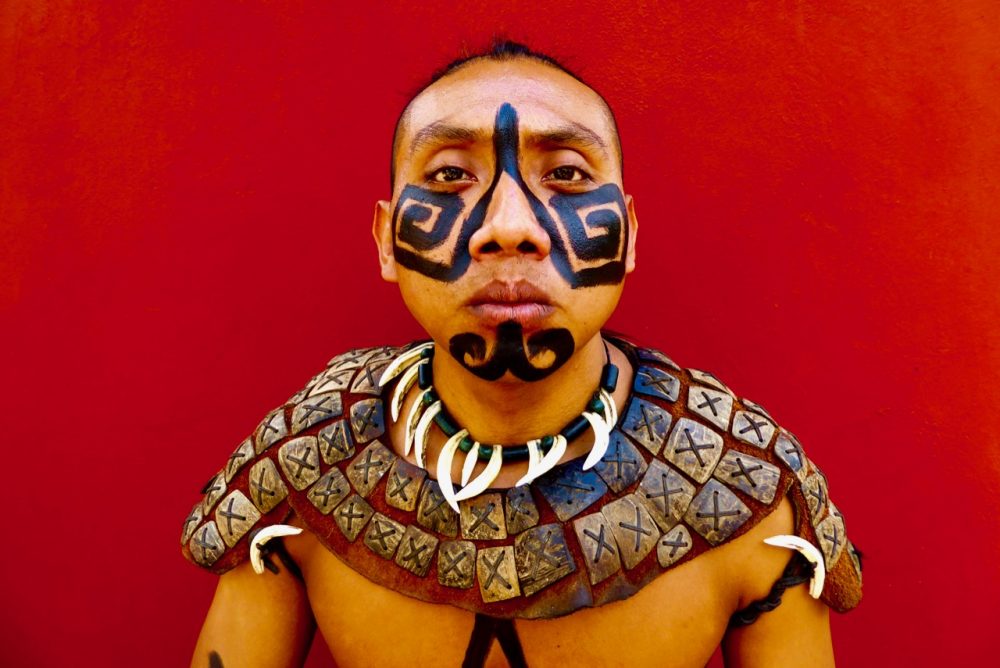 Gabino Tuz Mayan Ek Balam Yucatan Peninsula Mexico 2019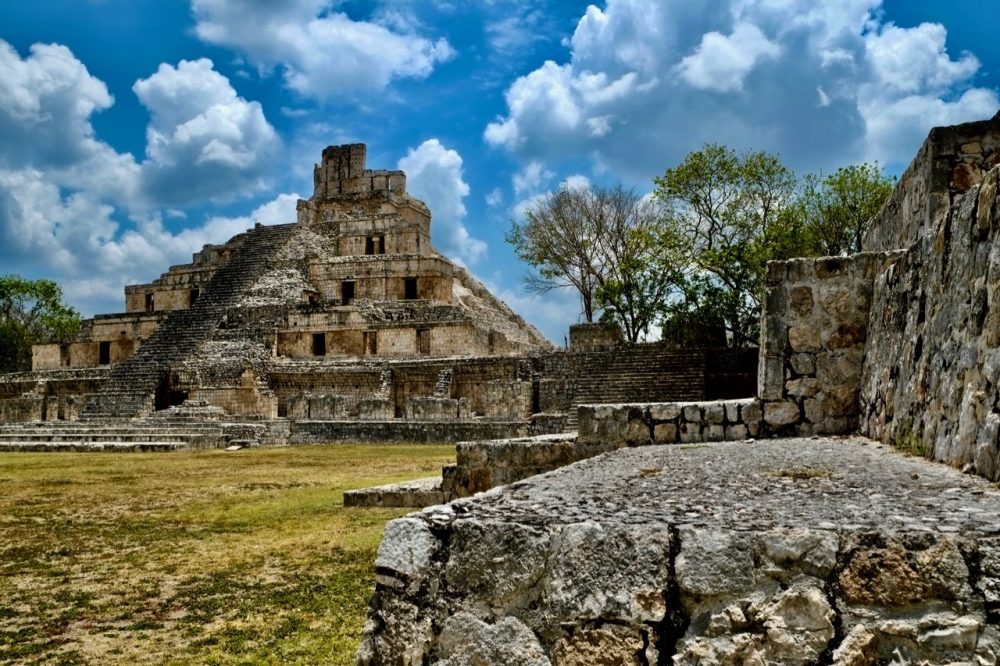 Edsna Campeche Mexico 2019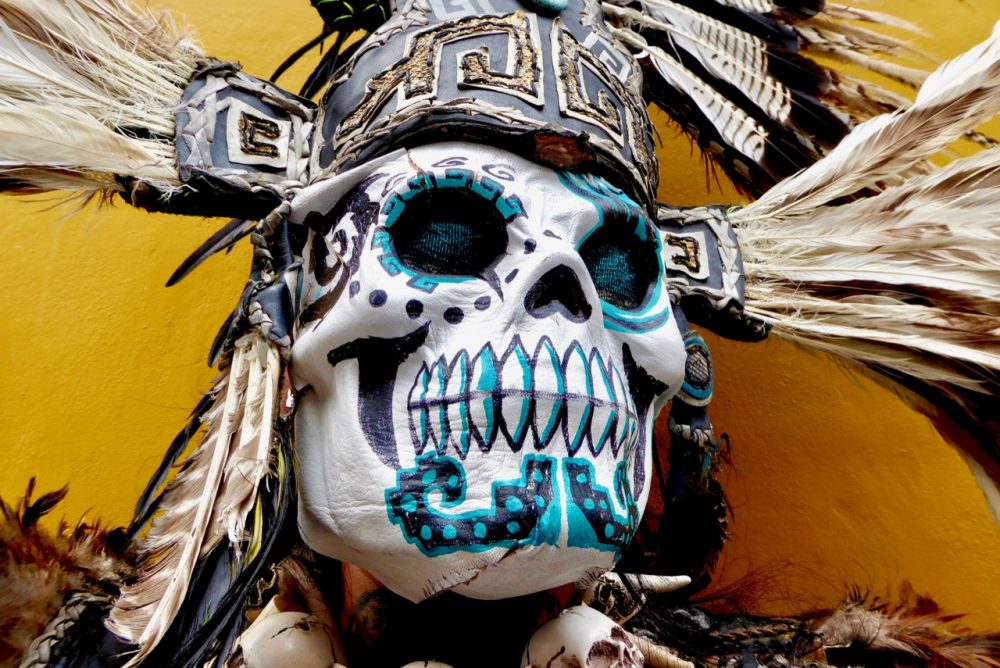 Mikiztli Acatl Aztec Zocalo Mexico City Mexico 2019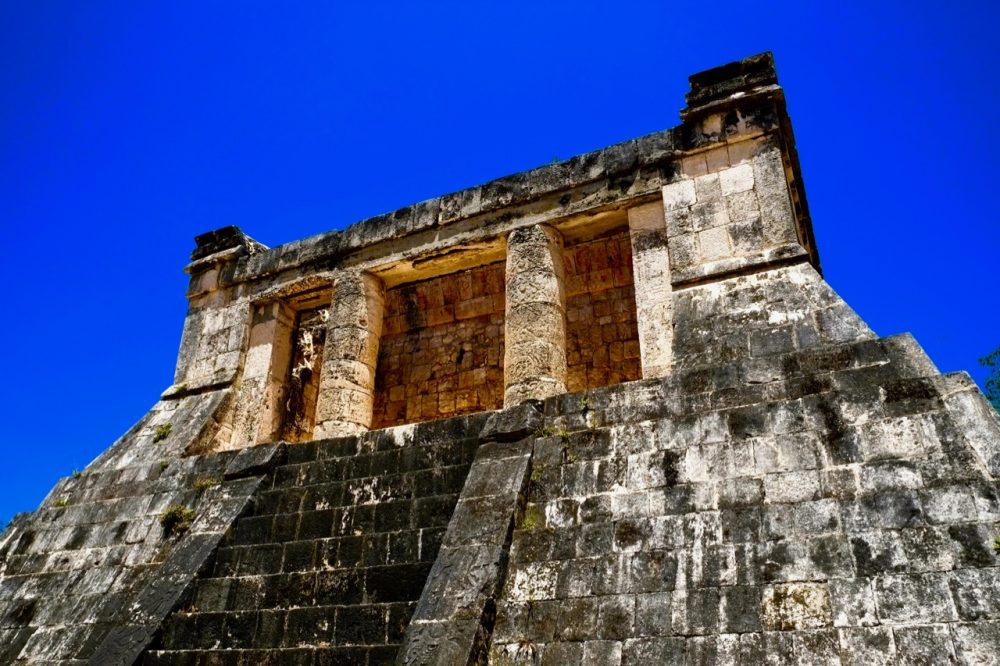 Chichen Itza Yucatan Peninsula Mexico 2019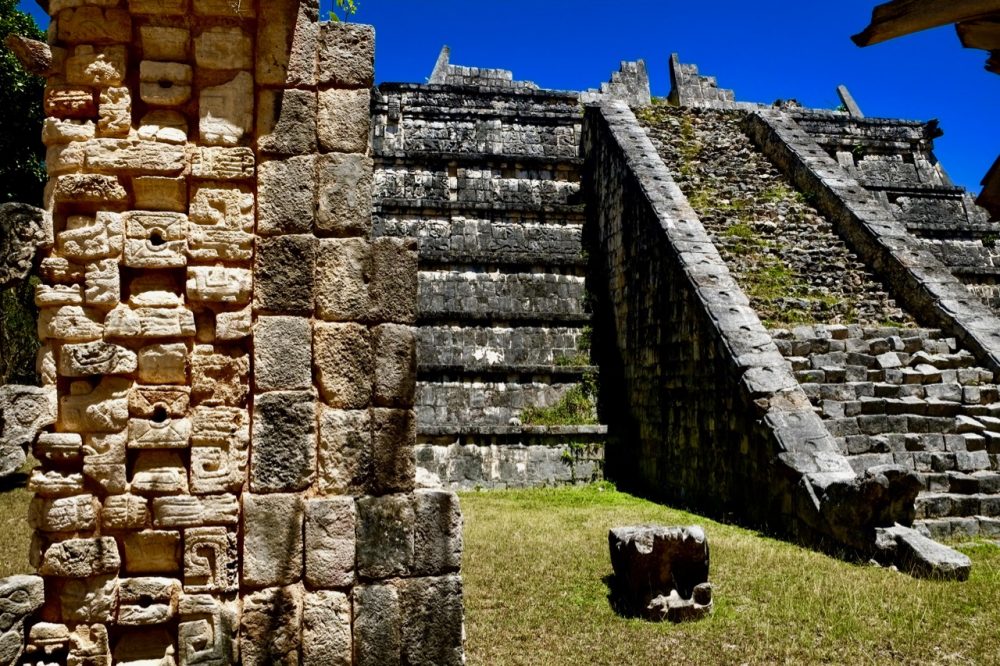 Chichen Itza Yucatan Peninsula Mexico 2019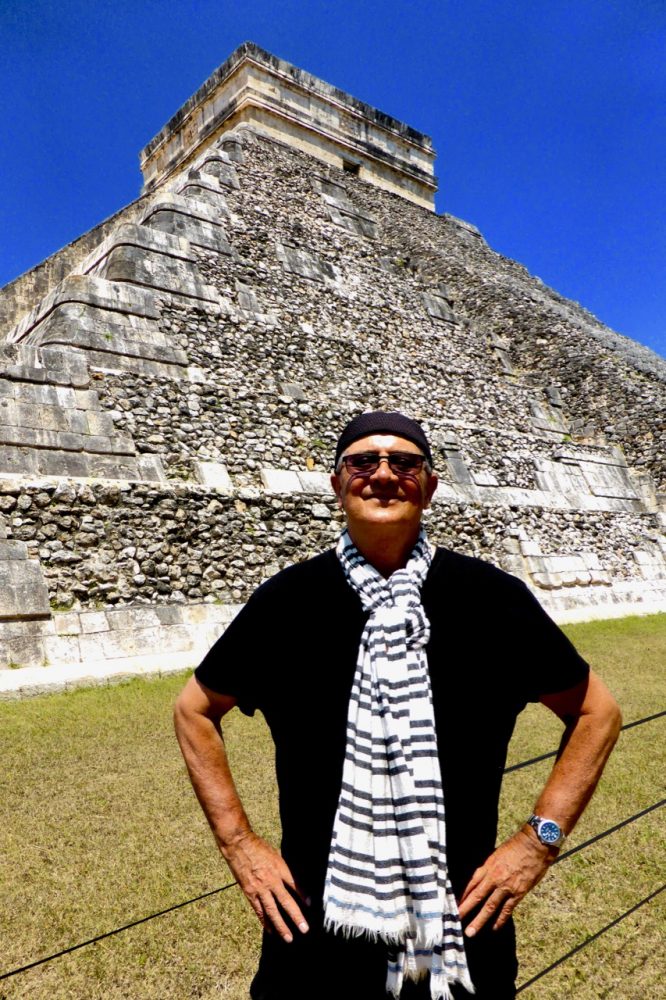 El Castile Pyramid Chichen Itza Yucatan Peninsula Mexico 2019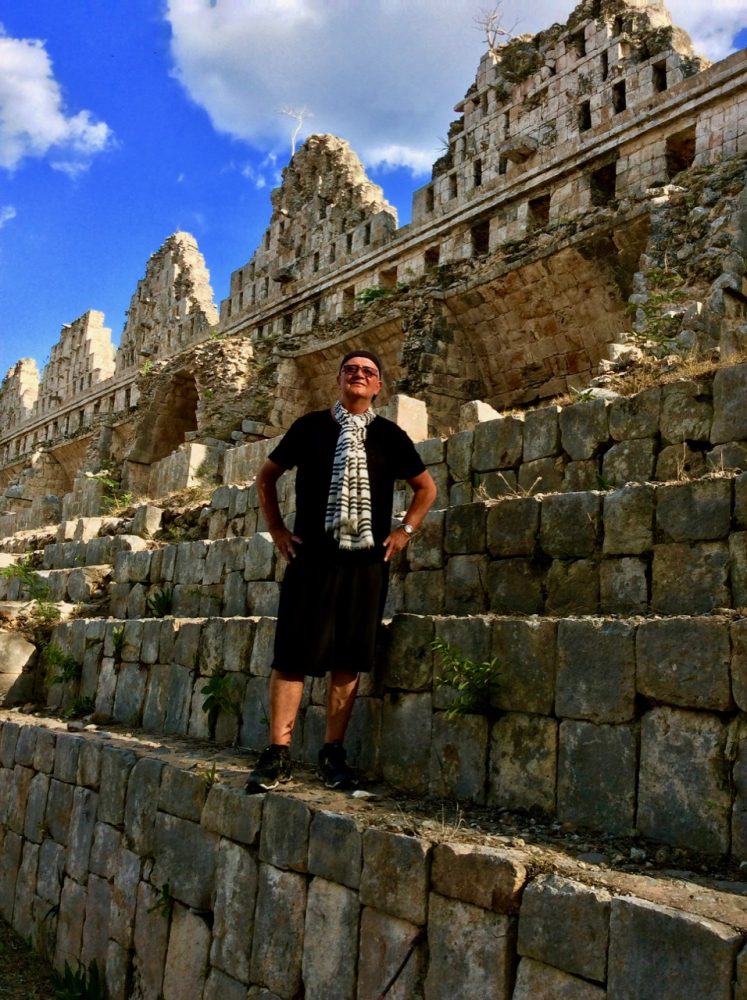 Uxmal Yucatan Peninsula Mexico 2019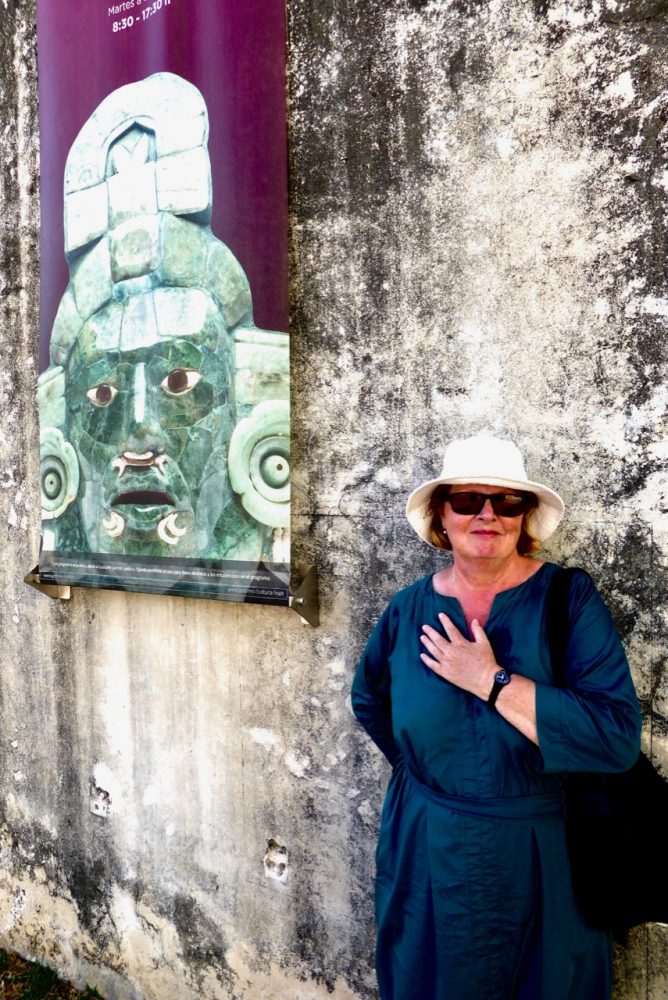 Campeche Maya Architecture Museum Baluarte de la Soledad Mexico 2019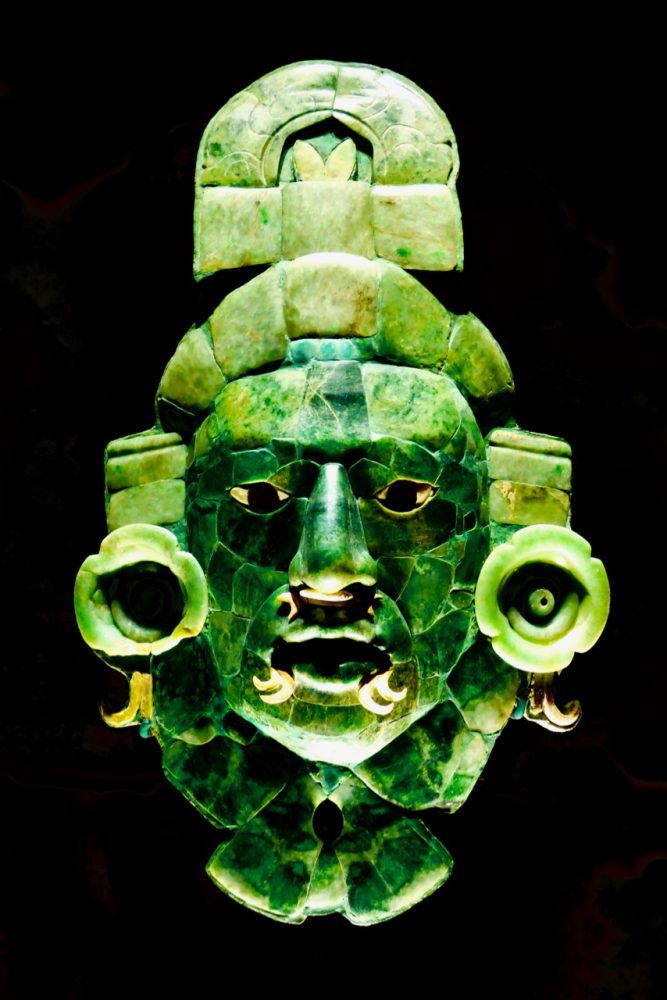 Calakmul Jade Mask: The jade mask of Calakmul, one of the main symbols of the ancient Mayan civilization, returns to Campeche after eight years touring the world as cultural and historical ambassador of Mexico and Campeche. "I think it's the most beautiful of all, so being the most beautiful of all was the one that was taken to be an icon of Campeche and the one that has allowed us, the one that has been an ambassador of Campeche to the world," said Claudia Escalante Díaz, director of INAH Campeche museums. The mask was found in 1984 and was part of a mortuary offering that was found in one of the main buildings in the city of Calakmul that the Mayans built about 2,000 years ago in what is now the southeastern state of Campeche. Also found were nine other jade masks and the skeletal remains of Yuknoom Yich'aak K'ahk who was the K'uhul Kaan Ajaw or sovereign of the snake kingdom, known as Jaguar's Claw, the last warrior king of the Maya. "Archaeologists find their remains and their companions their grave goods. In addition to the jadeite masks that are very important pieces because it also tells us about the commercial relationships that there were, "said Antonio Benavides Castillo, delegate of INAH in Campeche. The mask, made in jade and applications of seashells and gray obsidian, has traveled several countries as an important piece of exhibition in museums in Paris, London, New York and Beijing, among others: "This mask had been on loan for fourteen years and in many places around the world and when we finally brought it to Campeche," said Claudia Escalante Díaz, INAH Campeche Museum Director. The jade masks represented the face that the Mayan dignitaries wanted to show when appearing before the gods of the underworld or kingdom of the dead and will be permanently exhibited in the Museum of Maya Architecture, located in the Baluarte de la Soledad. Thanks to TelevisaNews for this article & ExploreNayarit.com.