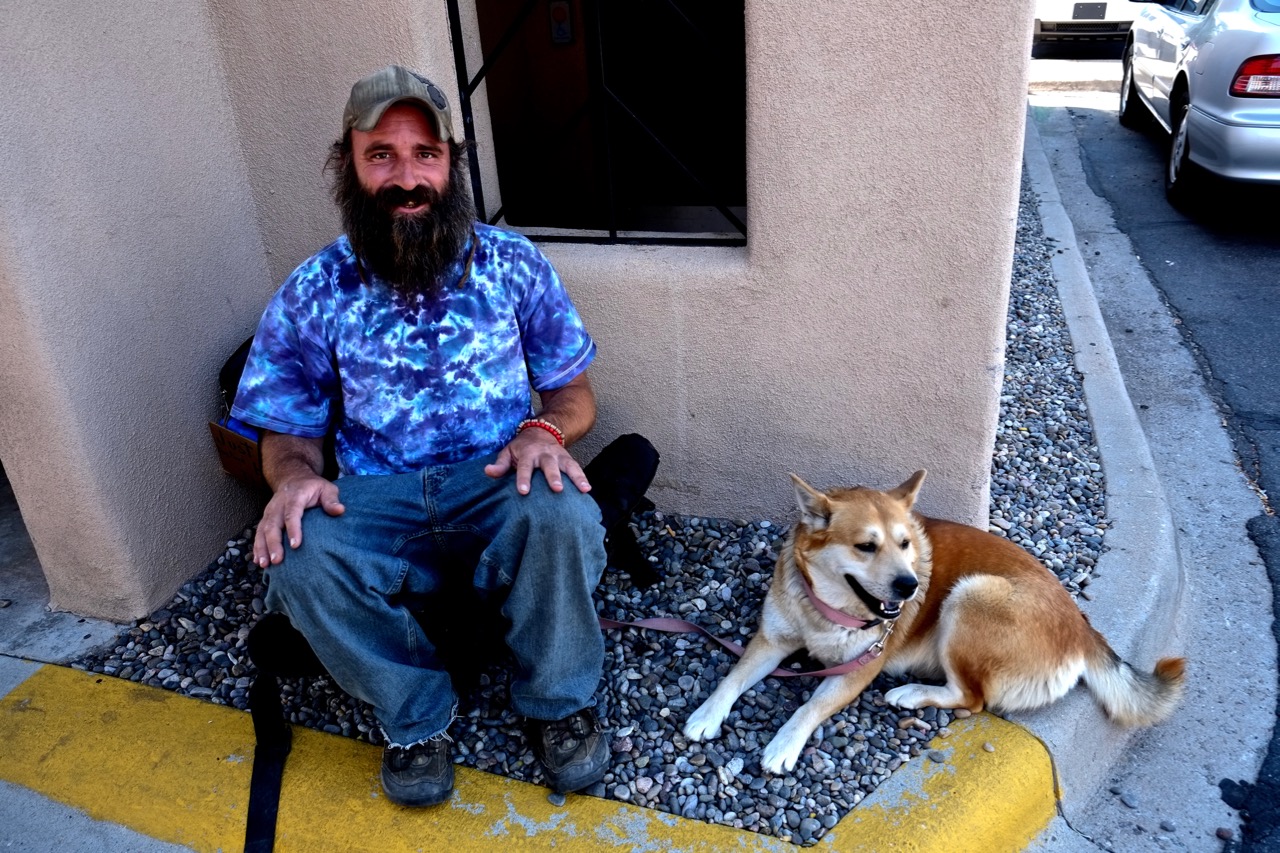 I got talking with a ex-navy veteran who was homeless in Santa Fe during the recent Southwest/Great Plains road trip. The man had this lovely well groomed dog and over the six days I stayed in the city I gave him quite a bit of cash. He was not sick or mentally ill and he was very able bodied. He spoke harshly to other homeless people who trashed bins looking for food and one day he said that he missed catching up with me as he was cleaning up a particular area so the homeless people would not get a bad name.
Joshua's dog was named Foxy and this beautiful animal was the love of his life. Joshua said that when it got cold in winter in New Mexico he would move down to San Antonio, Texas. If he needed a change from Santa Fe he would move up north to Durango, Colorado.
Joshua was a musician and played drums but he said that carrying around his drums and backpack was a bit much so he recently sold his portable drum kit. On two occasions I quietly handed him twenty dollar bills. He said thanks man I will now be able to take the rest of the day from trying to raise my daily money needs and enjoy the sunshine. Joshua even said that getting a twenty dollar bill was like having a days holiday. This man aged around forty-four was happy contented and most importantly loving of his animal companion. When I was leaving Santa Fe he called out that I was now on his Christmas list and that he would send a postcard Down Under for the festive season.
As a working artist and caring individual all my life I did not need to get cancer last October to see the light. I live each day with the light shinning inside of me and for that reason I was extremely happy to help out a fellow human being with some money for his daily needs. At the end of the day your station in this earthly life means nothing if you do not have a beating heart and a radiant soul. I have had to escort dead bodies to the morgue at the War Memorial Age Care Hospital on a handful of occasions before my illness in late 2012.
And sad to say they have nothing with them but the blue zipped plastic bag that is protecting their lifeless bodies. Enjoy each day, smile and be as polite as much as this society allows one to be in this day and age! And for the paper stuff that makes the world spin round. Enjoy passing it around! Have a nice caring day and stay well clear of the walking dead.  They can really screw with your head if they get the opportunity to enter your personal space!